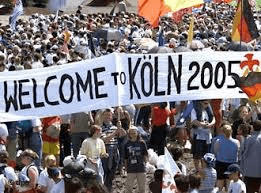 Does anyone know Fr. Richard Au of Canadian Martyrs church in Richmond? Father Au is a good priest and a friend. I got to know him in 2005 when we went to Germany for World Youth Day. Because he knows Europe so well, he took us everywhere: every beautiful church, every popular restaurant, and every important landmark. The downside was it was exhausting. During one of the few breaks, one of the guys on the pilgrimage looked at me sitting down on some steps and said, "You're either really mad or really tired." The truth was I was really frustrated: I never expected to be going non-stop.
A good definition of frustration is the difference between the way we want things to be and the way they are. When some things don't meet our expectations, we can get frustrated.
So what gets you frustrated? When people aren't kind? Bad drivers on the road? When our spouse lies? Our kids don't follow through? Politics at work? When things don't go as planned? Go shopping and can't find what we're looking for? Do you ever get frustrated with other people at Mass? When they come late, leave early, talk in the vestibule? The reason we get frustrated is because we expect people to be kind, to drive well, for our family to say the truth and do what they said they were going to do, etc.
Have you ever gotten frustrated with God the Father, with Jesus? Sometimes people even get mad at Jesus because they expected Him to do something and He didn't do it. At one time in my life, I actually got so overwhelmed and tired that I was tempted to get mad at God. I remember being in my bedroom almost going crazy and then starting to turn my anger towards our Father. What was happening in my life was just too much for me. Thankfully I never gave into that anger, but it was a powerful emotion.
The first reading has a beautiful reminder for us who are frustrated: "The days are surely coming, says the Lord, when I will fulfill the promise I made to the house of Israel and the house of Judah" (Jer 33:14). These words speak to me because it reminds me that our Father is faithful and always does what He says He'll do. But the key is: what does God promise to do? We expect Him to do one thing, and if He doesn't do it, then we get frustrated. But did God ever say He'll do what we expect Him to do?
Almost all people, for example, assume God will make life easy for us. We know that life isn't easy, but when our loved ones get cancer, we lose our job, are in a financial crisis, or a friend lets us down, then we may have questions like, "Why is God doing this?" "Why is He letting this happen?" There are some people who actually stop coming to Mass because they're mad at God. They're sick and tired of the whole prayer thing and they're thinking, "This isn't working. What's the point?" They ask this question because they thought the whole point of going to Mass was to have an easier life.
It's really important to understand not just intellectually, but emotionally, that God never promised us an easy life. Suffering is part of the life of every human being; everyone suffers. Jesus promised that our life would be blessed, not easy, and there's a difference between the two.
Here are a few sayings of Jesus where He tells us that life will still be tough for us Christians: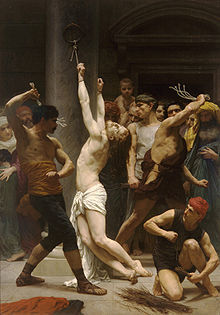 "If the world hates you, know that it has hated me before it hated you. If you were of the world, the world would love its own; but because you are not of the world, but I chose you out of the world, therefore the world hates you. Remember the word that I said to you, 'A servant is not greater than his master'" (Jn 15:18-20, RSV). Right away, when I read this, it helps me make sense of what's going on, because even I instinctively want everyone to like me. And now I remember that it's okay if they don't.
Here's one of my favourites: Jesus talks to St. Peter about growing in maturity: "'Amen, amen, I say to you, when you were younger, you used to dress yourself and go where you wanted; but when you grow old, you will stretch out your hands, and someone else will dress you and lead you where you do not want to go.' He said this signifying by what kind of death he would glorify God" (Jn 21:18-19, NAB). This saying reminds me that my immature self wants to do whatever I want, but maturing means dying to self and living for God, and that involves suffering.
Now listen to this one, because it's the best transition into our next idea: "In the world you will have trouble, but take courage, I have conquered the world" (Jn 16:33). With this, Jesus is saying to me: "Fr. Justin, you're still going to have trouble as a priest (because suffering is part of life. Why do you expect differently?); you're going to have trouble at St. Anthony's (because you're a sinner and you're dealing with sinners); but be of good cheer (as the RSV translation puts it), I have overcome your suffering, your sins and their sins." When Jesus says this to me, I then know that everything will work out in the end; if God wants something, He'll see it through. If I'm doing my best, that's all that our Father wants of me. If I'm faithful, our Father is always faithful. That is a beautiful promise of Jesus, and now I know what to expect. So I'm not frustrated.
Here are a few other promises Jesus makes to you and me:
St. Paul says, "God is faithful, and he will not let you be tempted beyond your strength" (1 Cor 10:13). Notice that it doesn't say we will not be tempted. In fact, we will be tempted. But God promises that we won't be tempted beyond our strength. When St. Paul himself asked Jesus three times that a great suffering would leave him, Jesus said to him, "My grace is sufficient for you, for my power is made perfect in weakness" (2 Cor 12:7). Jesus promises to always give us enough strength; not to make it easy, but to help us through it.
Jesus says in Revelation, "Behold, I make all things new" (Rev. 21:7), and this refers particularly to suffering.
Last one: "Come to me, all who labor and are heavy laden, and I will give you rest. Take my yoke upon you, and learn from me; for I am gentle and lowly in heart, and you will find rest for your souls" (Mt 11:28-29, RSV). Jesus promises us peace and rest, on condition that we take up His yoke and do His will, not our own. Some of our sufferings are self-inflicted. Jesus doesn't want us to suffer certain things, but when we do our own will, we bring pain upon ourselves.
Today we've begun Advent, a time of expectation. It's helpful that we all verbalize what expectations of God are. There are two kinds of expectations: realistic and hope-filled.
For example, I could verbalize the following as my realistic expectations: "Being a pastor is hard, people here will hurt me and misunderstand me, they will talk about me behind my back, the devil will attack me and them, they will not listen to the announcements at the end of Mass(!), some people won't see things the way I see them.
But then I'll also verbalize my hope-filled expectations: "Jesus is blessing this community in so many visible and invisible ways; people have a good heart and Jesus can soften even the hardest heart; if I'm faithful to Jesus and speak what He wants me to speak, He'll be faithful to me; people will respond to Jesus' invitations, it just takes time, like the seed that grows during the night."
Maybe for the rest of this Mass we can all clarify our expectations. Here are examples of realistic expectations for you: "There will always be suffering in my life; priests are human; sometime this week, someone will hurt me; people at church aren't perfect; things at St. Anthony's will change." And here are some hope-filled expectations: "Jesus will always take care of me; His grace is enough; He always gives me enough for today; if I ask for what God wants, He'll always give it to me. People grow: my spouse will grow, my children will grow, Fr. Justin will grow; Jesus is leading this parish and change can help me to grow."
And please, having talked about getting mad at God, please make the decision never to get mad at God or blame Him. It is an unfair and unrealistic expectation to expect a life without suffering.
Jesus' message to us today is full of hope, for two reasons: 1) we're more hopeful because we don't have unrealistic expectations; 2) we're more hopeful because we now know clearly what to expect, and we know Jesus keeps His promises.