My father had many blessings in life and had many fine qualities, but he also suffered a lot and made some mistakes. One of his greatest struggles was keeping a job. Though very well-educated and talented, he would bounce around from job to job and, at one point, had no job for many years. This was devastating for his self-confidence and self-worth; he was depressed and frustrated. It was also hard on our mother, who had to work to support the family, and hard on us boys, seeing our father suffer and make mistakes.
I remember the time Dad found a new job after a long while. We were all excited! We were so disappointed, Dad included, when he lost the job in about a month. But God was good: Dad found another job. Sooner or later, he either quit or lost it. This pattern repeated. It almost seemed like Dad would find a way to lose a job.
All of us can, like my dad, get in a rut. Things keep on going badly in our lives and we keep on making the same mistakes. Many of us are in ruts in our prayer lives. Some of us are in ruts in our relationships. There are ruts in our career, finances, health, etc.
But God loves getting us out of ruts! St. Paul says today, "Brothers and sisters: If anyone is in Christ, there is a new creation: everything old has passed away; see, everything has become new!" (2 Cor 5:17). Think about the following phrase, "God loves fresh starts." Isn't that beautiful? I love mornings because it's an opportunity for a fresh start. I love Reconciliation because it's a fresh start. I love Sunday Mass because it's a fresh start.
God is always trying to give fresh starts! But not always in the way we assume. My dad needed a fresh start in his career, but he also needed another fresh start. We started to realize that Dad was losing his jobs, not because of the work situation, but because of his own bad habits: he could never get along with people. Eventually someone would do something at the office that would set him off and he would change his attitude and push the management to let him go.
Now sometimes we have a bad job and need a change. Sometimes we're in a rut because of other people, because we keep on getting sick, or because of situations we can't control, but sometimes we might also be part of the problem. When every job we take is a 'bad job,' maybe it's not the job.
This is one of the hardest things in life to face: are we part of the problem? If, for example, we're consistently late for work, school, or Mass, is it the traffic, the kids, the spouse? When I'm consistently late, I realize I'm the only constant in this equation. When I saw some of the exact same problems follow me from Vancouver to Rome in 2009, it made sense: it was my own bad habits that were killing me. Sure, situations are a catalyst for my problems, circumstances exacerbate them, but they're just exposing the problems with what I consistently do day in and day out.
If we want a better relationship with Jesus, we have to improve our daily habit of prayer. If we want better relationships with people, it starts with changing the way we treat them and interact with them every day. What are our daily eating and exercise habits? Because this is what gives us our health or lack of health. Jesus preached repentance and conversion, which means changing our moral habits.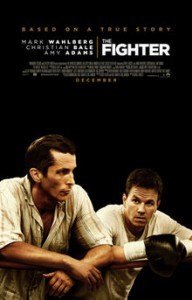 In 2010 there was a movie called The Fighter, about a dysfunctional family involved in boxing. While there are many things that are bad in it, I think it's overall a good film because it shows the horrible results of bad habits, and how fresh starts come by changing our habits. When Christian Bale's character is on drugs and his mother refuses to acknowledge it, the younger brother (Mark Wahlberg) says, "Ma, I don't know what to tell you. You pretend like you don't know what's going on. He's been doing this for years…. What'd you think? What'd you think he was doing?" The next scene shows Bale's character on his knees in prison, having hit rock bottom, and then the next day there are church bells ringing (a symbol of new beginnings), and Wahlberg's character decides to start training again. The best scene for me is towards the end when Bale's character cuts off his friendship with other drug addicts. He walks up to them, gives them a cake, and walks away, leaving his old life behind.
Jesus was always blessing my father and He gave my father the humility to see his faults and change. My father was an accountant, and when he hit rock bottom, he humbled himself and took a simple job working at a golf course with a salary much lower than what he was used to. That was hard for him because of his pride. But there's no shame in honest hard work. This choice was the beginning of great things. He worked at that job for a few years, then got back into business and I remember when he told us that he would not lose this job. When people at the office were doing a bad job or getting on his nerves, he chose not to let it bother him; he chose not to quit.
This was a miracle, a testimony to God's grace. It was impressive, and I'm so edified when I think about how my father changed. He even tried to change his driving habits! Before, he was always speeding, rushing, and being late. When he tried to grow, he said he wanted to enjoy the ride and it wasn't worth it to getting so agitated while driving. He also tried to laugh more and see the lighter side of life. The last three years of my father's life were the happiest of his life. He came closer to God, felt better about himself, and was more joyful, patient, forgiving and virtuous.
Do you know your bad habits? Ask you spouse, they'll tell you. While writing this homily, I started asking people, "What are my bad habits? Do you see any bad habits in me?"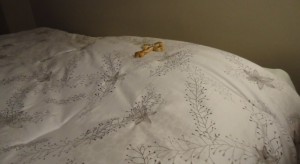 I'd like to suggest one habit that will be fruitful for all of us, because it helps us start the day well and finish it well. Who here has a crucifix at home? This is what we do: when we go home we take that crucifix and put it on our pillow. Every night, we cannot take that crucifix off our pillow and go to sleep until we've reviewed our day in one minute of silent prayer and then said the act of contrition. When we wake up, we can't put the crucifix on the pillow until we've made our morning offering, taking one minute to offer the upcoming day's activities to the Father. If, when we go to bed and see that that crucifix isn't on the pillow, it means we forgot our morning offering. And so we make the morning offering right then and there, even if it's late! Then we make our act of contrition and do better the next day. (We've put out cards with both prayers on the front and back that we can take home and start with these.) Think about it: such a simple life-giving habit: we always start and end the day with Jesus. If we want tomorrow to be better than today, then the examination of conscience at night helps us see our sinful habits, and the morning offering asks Jesus' grace to practice loving habits.
Once we set out to change our habits, it's then that we realize we need a saviour. It's a noble effort to improve, but real improvement only happens through Jesus' grace. St. Paul says today, "All this is from God, who reconciled us to himself through Christ." God loves us so much! He loves fresh starts, and they begin by changing our habits.