There are two dangers in life that we all face: expecting too much of ourselves and expecting too little.
At one point in my twenties I remember feeling very depressed because other men in the seminary were better than I.  There was a guy who was much smarter: When our Latin teacher asked how long it took to memorize some prayers in Latin, I said, "45 minutes."  The other guy?  It took him only 25.  It was like that in all our classes.  He also taught himself how to play the guitar and the violin.  He was good at everything—it was disgusting.  There was another guy who was shorter than I but spiked better in volleyball, ran just as fast but could go much further, and was equal or better to me in every sport.  And then there was one fellow who was so social and funny that he was Mr. Popularity and everyone loved him—except me!  I remember thinking at my desk: "I can't keep up with these guys.  What am I good at?"  The temptation was to expect too much of myself, and this lead to sadness.
Then there's expecting too little.  I know a person who, because things in life were 'pretty' good, became complacent: He got out of shape, let his most important relationships slip, and never improved in his professional life.  One day it hit him, "What's happened to me?"  He had become lazy.  His temptation?  He expected too little.  And this lead to disliking who he had become.
Jesus speaks to us today about both temptations.  In the Parable of the Talents, notice that the Master (Jesus) is equally satisfied with the servant who made five talents and the one who made two.  He doesn't expect more than they're capable: He doesn't expect the one with five to make ten more, nor the one with two to make five more.  Why?  Because Jesus is the perfect master: He's the most fair and realistic; He gives "to each according to his ability" (Mt 25:14-15); and His expectations are perfect.  He doesn't expect me to be the smartest, most athletic, funniest guy.  To be sad about not being so or jealous of other people is a sign that I have different expectations than God.  In the same way, if we're sad because, for example, we aren't as good looking as others, don't succeed at certain things like other people do, don't seem to have as many gifts, then we don't have God's expectations.
But there's a deeper question: Why doesn't God give us more ability?  Two reasons:
1) God deliberately gives us all different gifts so that we will share them with others and practice charity.  God said to St. Catherine of Sienna: "I have not given everything to one single person, so that you may be constrained to practice charity towards one another…  I have willed that one should need another and that all should be my ministers in distributing the graces and gifts they have received from me" (CCC 1937).
2) St. Thérèse of Lisieux herself asked this question and answered it this way: All of us are flowers in God's garden, and the different flowers give glory to God by their unique beauty.  She says: "Every flower created by [Our Lord] is beautiful, that the brilliance of the rose and the whiteness of the lily do not lessen the perfume of the violet or the sweet simplicity of the daisy…  If all the lowly flowers wished to be roses, nature would lose its spring-tide beauty, and the fields would no longer be enameled with lovely hues… So it is in the world of souls, Our Lord's living garden.  He has been pleased to create great Saints who may be compared to the lily and the rose, but He has also created lesser ones, who must be content to be daisies or simple violets flowering at His Feet, and whose mission it is to gladden His Divine Eyes when He deigns to look down on them."  The name Little Flower is based off what St. Thérèse called herself.  She thought of herself as just a little flower in God's garden who wasn't very strong, but whom God raised up.
God shows His power when He keeps our Mother Mary sinless from conception, but shows His mercy in rescuing sinners like St. Augustine, and then shows how low He will reach down to help little children become holy.
St. Thérèse says, "Perfection consists in doing His will, in being what He wills us to be."  Perfection doesn't mean being the absolute best, but in being who God made us to be and doing our best.  God expects only our best, and nothing more.  He expected the slave with five talents to make five more, and the slave with two to make only two more, and so on.
And let's add something that's not explicit in the parable but which we know is there: The master loves his slaves.  Think about the Father in the parable of the Prodigal Son.  The older son who's been working hard for the Father thinks of himself as a slave when he's actually a son and the father loves him.  The Father says, "Son, you are always with me, and all that is mine is yours" (Lk 15:31).  That's how it is with us.
As for the other temptation, to expect too little of ourselves, which is what the servant with one talent did, how does Jesus criticize him?  "You wicked and lazy slave!" (Mt 25:26).  He was given a gift and responsibility by Jesus and did nothing with it, not even something easy like investing it in a bank.  If it's true God doesn't expect too much, it's equally true that He doesn't expect too little.  He expects fruit.  Jesus says: "I appointed you to go and bear fruit, fruit that will last" (Jn 15:16).
Why is laziness a sin?  Because we're not fulfilling our responsibility to God and other people.  God gives us time to do good, which is why we should never waste time (It doesn't mean we don't rest, but do what is reasonable). Our families are also counting on us to do our part and not live off them (Cf. CCC 1937); our parish counting on us.  There are gifts that only we have—we're expected to use them for others; and we have duties that only we can fulfill.
Laziness is also a sin because work is good for us.  St. John Paul II said that, through work, we fulfill ourselves as human beings (Laborem Exercens, 9).  That's because we're made in the image and likeness of God and God Himself works.  Jesus says, "My Father is still working, and I also am working…  Very truly, I tell you, the Son can do nothing on his own, but only what he sees the Father doing; for whatever the Father does, the Son does likewise" (Jn 5:17,19).
These ideas (taking responsibility, becoming more human), I think, are the reason last week's homily on virtue resonated with so many.  Building virtue requires effort, and virtue becomes our character, which is who we are.
Jim Caviezel, who played Jesus in The Passion of the Christ and Person of Interest, is also a devout Catholic.  In 2014, he filmed a movie about a high school football coach named Bob Ladouceur, who won 152 games in a row—a record—and could have gone on to the NFL.  This is what Caviezel said about this famous coach: "Your character is everything.  When [any] coach turns his back, many times that's when the kids let up, but [Ladeceour's] guys, they take full account of their own actions…  This is the early stage of their lives when they're boys and they're not quite men.  There are a lot of 40-year-old, 50-year-old guys out there that never become men.  And what is lacking?  Responsibility.  [Ladeceour] got up in front of the team one time and said, 'We're not asking you to play a perfect game—that's impossible.  What we're asking of you and what you should be asking of yourselves is to give a perfect effort on every play, from snap to whistle, that you can be depended on.'  Love means you can depend on me."
Apply this truth to today.  What does Jesus expect?  We should pray: "Jesus, we praise You because You're the one who gives life.  You expect my best today, and because You love me and call me to be like You, I feel energy and hope.  What do You expect of me today?  Give me the grace to do it, and whatever I can't do, please supply the rest."  One of the greatest gifts of Jesus is that He sets the bar at the perfect level and helps us get there!
We're about to shift into the Liturgy of the Eucharist, and God just wants us to pray sincerely, relying on Him and as best we can, even though we may have distractions and things on our mind.
And when we finish Mass, we should have the same expectations of others that Jesus has of us: We expect our children to give their best effort today.  I expect all of you to love each other as best you can, in your own unique way, and I'll pray for you today that you can do this.  Let's pray for each other.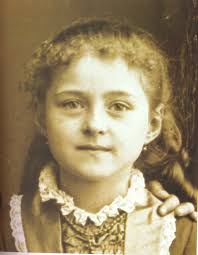 St. Thérèse, who was indeed a little flower and never did anything spectacular in the eyes of the world (like most of us), was called the greatest saint of modern times by Pope St. Pius X.  How did she become this?  By following her own advice: "Perfection consists in doing His will, in being what He wills us to be."  She never tried to be anyone else or do anything other than what Jesus wanted.  If we ever read her autobiography, Story of a Soul, we'll find that she was extremely hard working and always striving to do her absolute best for Jesus.  At the same time, she was never sad that she was small.
It's a fine line between expecting too much and too little, and sometimes our best today is different than tomorrow.  That's why the one thing I want everyone to take away from this is to look to Jesus!  Ask Him!  He knows what we're capable of today, He sets the standard and He supplies the rest.  Some of us feel healthy while some of us are tired; others are energetic while others feel depressed.  In other words, for today, we may feel as if we have five talents!  If so, then God expects five more today.  But some of us feel like we only have one today.  If so, could we at least invest it in the bank?  Ask Him, "What do You want?  What do You expect?"  God expects our best, no more, no less.