Someone (not here) once told me, "Father, if I had heard what you preached about a few years ago, I wouldn't have been able to handle it."  This person was very honest and admitted that he could be overwhelmed by God's call.
Some of us may have been overwhelmed by last week's homily.  We announced that we're raising the expectations of what kind of Christian we're called to be, saying it's not enough just to be Catholic; Jesus calls us to follow Him as disciples, which means becoming like Him.  Modern-day disciples exhibit four signs: 1) They have a routine of prayer every day; 2) A hunger to learn about their faith, spending on average 14 minutes a day; 3) They're generous in all aspects of their life; 4) They share the message of Jesus with everyone.
Now if that doesn't overwhelm us, some people have said that, when we've talked about Jesus' call to be a saint, this is overwhelming.  I want to let you know that I know what it's like to be overwhelmed by Jesus' call.  In my second year of seminary studies, I thought about joining the Oblates of the Virgin Mary, a group of priests based in Boston.  When I looked at their requirements to join, the first one said, "A serious desire to become a saint," and I felt completely overwhelmed. When I saw that, I said, "Oh man, I can't do that, that's too much!"  To be a saint meant I had to change many things in my life and I just wasn't ready.
The Responsorial Psalm today says: "O that today you would listen to the voice of the Lord.  Do not harden your hearts" (Ps 95:7-8).  So, we have a choice to listen to God's voice or to harden our hearts.  To harden our hearts means to resist His call (Cf. CCC 674), and we can do that by giving up or by saying, "I'm not even going to try."  So here are two ideas to help us respond to the voice of the Lord and avoid hardening our hearts:
Here's the first idea: Discouragement never comes from God.  So if you ever feel discouraged, I want you to recognize right away in your brain, "Wait a minute: that's not from God."  Jesus likes to challenge us, He even likes to stretch us, but He never wants us to be discouraged.
Now I want to make a distinction: Being overwhelmed is different than being discouraged.  If we were overwhelmed last week, it could be a sign that we're listening to Jesus, realizing what He's asking of us and actually taking Him seriously.  In the Bible, Moses, Isaiah, Jeremiah and St. Peter were all overwhelmed by (are in awe of) God's call (Ex 3:11; Is 6:5-7; Jer 1:6-9; Lk 5:1-11; 1 Kgs 19:12-13; Mt 19:21-22).  But this is different from discouragement.  Discouragement doesn't trust in God's help (a hardened heart is closed to depending on God (Cf. CCC 591)), while being overwhelmed does.  Discouragement says, "There is no hope; and there's no way I can do it."  Feeling overwhelmed, on the other hand, says, "There's still a chance.  I trust in God, I depend on Him, He will help me through it."
Second idea: Spiritual growth is organic. When we grow spiritually, we don't even notice it–just like our bodies' growth.  While it's true that Jesus does ask us to give up our sins all at once, He doesn't expect us to grow spiritually all at once.  He doesn't expect us to become a saint overnight.  He recognizes that we humans are slow to change and He's very patient with us.
Pope Benedict once reminded a crowd, "The saints have not 'fallen from Heaven.'  They are people like us, who… have complicated problems."  That's good to know; that's very comforting!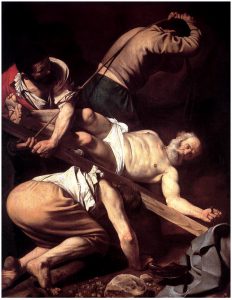 There's a famous legend called "Quo Vadis," which means, "Where are you going?" in Latin.  It refers to a time, about the year 60, when St. Peter was in Rome and he was escaping persecution.  While along a road, he meets the risen Jesus, who's going the opposite way, and asks Him, "Where are you going?" and Jesus replies, "I'm going to Rome, to be crucified again."  St. Peter realizes those words were meant for him.  This strengthens him, and he turns around and follows Jesus back to the city where he himself gets crucified.  Legend has it that St. Peter asked to be crucified upside-down because he didn't feel worthy to be crucified like his master, right-side up.  Again, Pope Benedict points out that St. Peter "needed a lot of time, perhaps his entire life" to understand the mystery of the cross and suffering.  He didn't become a saint all at once.  So if it took him his whole life to become a saint, then it will also take us our whole lifetime.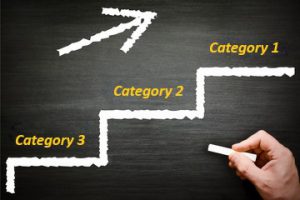 I regularly meet people who sometimes feel overwhelmed by their sins and how far away they are from God.  This is what I tell them to hopefully encourage them: "I think people fall into one of three spiritual categories: 1) People who are perfected (or have reached what God is asking of them, for example, overcoming lust, or trying to get rid of all their mortal sins).  2) People who are struggling, but are trying to get to category 1; and 3) People who aren't even trying.  Here's the thing: People who are trying in the second category, with God's grace, and He always gives us grace, will eventually get to category 1.  That's a good thing!  People in category 3, who never try, are never going to get there.  Why?  Because they don't want it.  And even though God offers them the grace, they choose not to try.  So God doesn't expect us to go to category 1 right away.  If  we can just get to category 2, then eventually, by God's grace alone, we'll get to category 1.  What God asks of us isn't immediately arriving at perfection, but the effort to work with Him.
I've been waiting to share the following story for a while and now I've finally found the opportunity.  One time, there was a girl at our school who was goofing off at the altar rail during Communion time—now this is very bad, because this is one of the most sacred parts of Mass and kids know they must be reverent.  After Mass, I went up to her and talked to her, and she said, "I'm sorry, I know it was wrong," and took full responsibility for it.  I was pleasantly surprised at her maturity, responsibility and contrition!  I later went up to the mother and said, "I've got to tell you something good." "What?"  "Your daughter was goofing off at Mass and…"  "Oh no, Father!"  I said, "No, that's not the good part.  The good part is that she understood and apologized right away and didn't make excuses.  You see, we don't expect kids to be perfect right away; they're kids, they're always going to make mistakes.  But the fact that she apologized is a sign that she's on the road to perfection!  She's in category 2, and she's going to get to category 1.  The real problem is when kids make excuses and don't care.  You've got a great daughter!"  The mother said, "Awww… thanks, Father!"  I responded, "She's not that good!"
What we're trying do here in our parish family is to at least get everyone into category 2, where we try to follow Jesus intentionally.  We're not expecting everyone to be saints right away, that's just not realistic because, as we've said, spiritual growth is organic.  If we can all be in category 2, that means we say: "Jesus is calling me to be saint — I hear it, I'm kind of intimidated, it's really hard — but I want to try.  And with God's grace, eventually, I'm going to get there."  Don't worry if we're not yet there; it will come.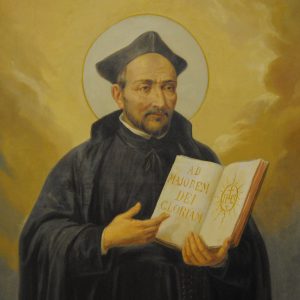 St. Ignatius of Loyola has brilliant advice for any man wanting to be a Jesuit.  One is supposed to ask a young man the following (which is a paraphrase): "Jesus suffered and died for us out of love.  If you join our group of priests, do you love Jesus enough that you want to suffer and die for Him?"  Candidates should be asked if they have these desires.  If they do, great.  But, if they don't, he says, "Ask them then if they want to have those desires" (Society of Jesus, General Examen, 101-2).
Let's apply that to ourselves. Do we want to be disciples of Jesus?  If so, great.  But, if not, do we wish we had that desire to follow Him?  Or, do we want to become a saint?  If we don't, can you ask God for that desire?
Apply this idea to my case, when I was in the second year of seminary, when I saw that line: "To join the Oblates of the Virgin Mary, you must have a serious desire to become a saint," and I was intimidated.  If you had asked me, "Do you have this desire?" I would have said, "No."  But, "Do you wish you had this desire?" I would say, "Yes, because, while a part of me is afraid, another part really wants to become a saint.  I really want to love Jesus with all my heart.  I want to do what I was designed and destined to do: I want to love people as much as possible.  I'm not completely ready for it.  But, I do want to get there."  And God will accept this little desire.
The Responsorial Psalm says, "O that today you would listen to the voice of the Lord.  Do not harden your hearts."  Is there anything we could do today that would be a step in the right direction?
Now let's say we're ready to take a big step: If so, go for it!  But if we say, "All I'm able to do today is a small step," okay, we'll take that; because Jesus is gentle with people who need gentleness.  And let's say we're not even ready to take a gentle step.  I'd ask then, "Do you have a desire to take a little gentle step?"  If so, then we'll work with that.
Today, I've asked two people in our parish family, a husband and wife, to share their testimony of listening to God's voice and taking small steps to follow Him.  They'll share how the parish, the school and Alpha have brought them closer to Jesus.
Now I'd like to say two  things about this: 1) We've talked a lot about all the spiritual opportunities to grow in our parish.  I'd like to point out that when we offer opportunities to grow closer to Jesus at the parish, these are not the only invitations of Jesus.  Jesus offers many opportunities outside the parish: He, for example, invites us to go to Confession, drop by the Adoration chapel, or have a spiritual conversation with a friend.  We can also follow Him by reading a Catholic book, forgiving someone, making a heart-felt prayer, etc.   The only reason why the parish is doing so much is because it's our responsibility to give opportunities so that everyone can take advantage of them.
2) What these two people are about to share is something that we should all celebrate.  Because a big part of why our parish exists is to encounter Jesus a bit more fully and follow Him a bit more closely. So, whenever someone in our church grows closer to Jesus or starts following Him more, we should praise God for it.
This isn't a parish for perfect people. This is a parish for sinners who are trying to be perfect and trying to be like Jesus.
***
Girard: "Hello everyone, my name is Girard and this is my wife, Marj.  We have two kids, Mika who's in Grade 5 and Joaquin now in Grade 4, here at St. Anthony of Padua School.
Almost three years ago, we migrated to this country thinking this would be THE ULTIMATE DREAM for us.  But as with other new immigrants, we faced a lot of challenges:  Striving and surviving, Marj and I took turns in going back to school while the other one was working, sometimes taking two jobs at a time.  We were always chasing time while settling in.  And during our usual days-off, which rarely fell on a Sunday, our main objective was just to spend time together as a family with or without Mass.  Sometimes, it didn't matter to us where we went for Mass, as long as it suited our hectic schedule.  We'd come late, dress inappropriately, take Communion even without Confession…  Needless to say – 'ignorance' was pretty obvious in our Catholic life."
Marj: "Being new to this country, we were at a stage where we felt something was missing.  Everything we had simply was not enough.  There was a longing to seek for a community that would give us a better sense of purpose.  Finding St. Anthony's parish was our 'serendipity' and it just kept on getting better: Our kids learning more about the Catholic faith (which they would pass on to us, their parents), the warm and friendly people at the parish, and the best part –  Father Justin calling people by first names which is just amazing!
Like many other Filipinos, Girard and I are Catholic because our parents were Catholic but we did not know and understand our faith.  Our daughter had to remind us one day to not take Communion because we missed Mass the previous Sunday and needed to go to Confession first. (You see, kids now know more than us!) This went on and on, until one Sunday, after Mass, Julio, one of the Alpha leaders, talked about Alpha and it sounded interesting.  We thought, 'Why not?!' Plus, we live 100 meters from Gigi Blin so we thought, "This is it!"
Then we saw an Alpha banner that read, "Is there more to life than this?" – HOW FITTING!
'Coz all this time, there's one BIG question that we were always struggling to answer… The 'NOW WHAT' question. Whenever we accomplish our small goals, we'd celebrate and then say: "Now what – what's next? Get married? Done.. Have kids? Done.. Migrate to Canada? We're already here, so again, NOW WHAT? Is there more?"
On the first day of Alpha, as expected we were just mere 'observers.'  We saw familiar faces from the parish and when we saw dinner being served, we're like "Mmm…"
From then on, we just continued to show up – taking things lightly one day at a time.  What brought us back, time and again (aside from the food) was that feeling of peace and comfort. Through Alpha, we found that sense of community where we could easily 'connect' with others, ask questions that were always considered 'valid,' where laughing was encouraged and a little bit of wine was allowed.  These people became our family – and together we're all growing in our faith and love for Jesus.
Girard: After our Alpha course at the Café, our group offered Alpha at The Door is Open, a drop-in centre that provides meals and shelter services in the downtown east side.  It was a whole different experience and made us see the world in a whole new perspective.  We started to slow down and started to focus less on our own wants.  We are now learning to let go of our own plans and let God lead us.  And to change our question to God from, 'Why is this happening to me?' to 'What are YOU meaning to tell me?'  Coming to Canada may not be THE ultimate dream by itself.  But finding TRUE MEANING and DIRECTION in life while we are here IS the reason."
Girard: "We love our Alpha Family.  Answering Jesus' call to be a disciple can be overwhelming – it was for us!  But in Alpha, we found people to journey with us, one small step at a time.  Like Father Justin said, do not get discouraged to follow what Jesus asks you to do, do it slowly, one step at a time. Do not get overwhelmed with the 12 weeks of Alpha, just think of joining us on the first Thursday, just one Thursday and let God take you from there.  Mark your calendar for Sept. 21st at Gigi Blin Café at 6:30 pm."