For those of you who have children, let me ask: Why do you love your children?  Is it because they're good at school and sports, or because they used to be cute?  Those aren't the answers, are they?  Why do you love your kids?  The answer is: "Because they're my kids."
It's so simple, but profound and beautiful: Because of a relationship we didn't choose, we care about someone intensely; we want them to thrive and be happy, and we want to be close to them.  This applies to many relationships.  Why do we love our parents?  Because they're our parents.  Why do we love our brothers and sisters?  Because they're our brothers and sisters.
And this gives us the key point for today's homily on our Blessed Mother Mary.  God has given us a mother.  Why do we love her?  Because she's our mother.  My love for her over the past few years has increased tremendously, and, in preparation for this homily, I kept on asking myself: Why do I love her so much?  Is it because she gives me so much, she prays for me, she's my model?  Those are all good things, but I love her just because I love her.  She's my mother—that's it.
Let's consider three ways we know she's our mother:
First (and it doesn't get much simpler than this): Since  Jesus is our brother His mother is our mother.  But think about this: the reason why Jesus wants us to honour her is because He was a faithful Jew, fulfilled all the commandments perfectly, and what's the fourth commandment?  "Honour your father and your mother."  Jesus does this by giving His Father and mother(!) as much as He can.  He gives His Father all glory and praise by giving Himself to Him and obeying His will.  But He also gives His mother all honour and love, by giving her everything she can receive: He conceived her without sin from the moment of her conception, and crowned her as the most perfect creation.  (Did you know that Mary is the most perfect creature, higher than the angels, more powerful than devils, more perfect and beautiful than the entire universe?)  Jesus wants us to fulfill the fourth commandment by honouring our parents here on earth, but also by honouring our mother in heaven.
Second, let's look at this text together from St. John's Gospel: "Standing by the cross of Jesus were his mother, and his mother's sister, Mary the wife of Clopas, and Mary Magdalene.  When Jesus saw his mother, and the disciple whom he loved standing near, he said to his mother, 'Woman, behold, your son!'  Then he said to the disciple, 'Behold, your mother!'  And from that hour the disciple took her to his own home" (Jn 19:25-27).
The Church has always interpreted this passage as Jesus giving Mary to be our Mother, revealing a new relationship between her and us, but some Protestant Christians argue that we Catholics are making too much out of this passage, that we're making up our devotion to Mary, and that it's not found in the Bible.  They believe that Jesus, in this passage, was only taking care of His mother: Since Jesus was about to die, He was merely asking St. John to take care of His mother because she'd have no other means of support.  So, which interpretation is more likely?
As in many other cases, we have to do a bit of research.  Here are six ideas that lend support to the Catholic interpretation:
1) Timing: It would have been strange to wait until one is dying to make provisions for one's mother.  Catholics and Protestants agree that Jesus was perfect, so why would He wait until this moment to make sure His mother was taken care of?  Did the Gospel writers decide to record this afterthought of Jesus: "Oh, yeah, I better make sure my mother is taken care of"?  That doesn't make sense.
2) Jesus had already left her in Nazareth three years earlier when He started His public ministry.  So He must have already provided for her then.
3) The text itself says that Mary's sister was present at the foot of the cross, meaning she was not completely alone; she had family who could help.
These ideas tell us there's more going on here than a son taking care of his mother's well-being.
4) Jesus calls His mother "Woman," which is never recorded in any ancient text of a son speaking towards his mother in this way.  Jesus is perfect, so He wouldn't be insulting His own Mother.  Why then call her, "Woman"?  The Catholic interpretation, given by the Fathers of the Church is that the first woman in history was Eve, and 'Eve' means mother of all the living (Gn 3:20).  But, now Jesus makes His mother the new mother of all the living, and indicates this by giving her the title, "Woman"; she's the new Eve!
5) St. John Paul II points out that, when Jesus looks at the beloved disciple and says, "Behold, your mother!" this would have been enough to get the beloved disciple to take care of Mary.  But when Jesus also says, "Woman, behold your son!" He's saying, "Mom, you have to take care of him!"  And that's what she does for all humanity.
6) The disciple is never named.  Many scholars believe him to be St. John, the writer of the gospel, but many also believe that he wrote this way also so that all of us could put ourselves in his place.  The disciple whom Jesus loved is you and me.  If that's the case, it makes perfect sense that we're supposed to love Mary as our mother, and she's supposed to take care of us as her children.
The third and last way we know Mary's our mother is by reflecting on today's Gospel.  How did the whole world receive Jesus?  Through Mary.  God sent His Son through her.  The greatest gift God gives us, His only Son, comes through her.  If she hadn't said, "Yes," then there's no salvation.  When she said, "Here am I, the servant of the Lord; let it be done to me according to your word" (Lk 1:37), she gave the world Jesus!  The whole thing depended on her!  She's our spiritual mother because she gives us spiritual life, and spiritual life isn't just a thing but a person.
Okay, now we know she's our mother.  (And, as one priest, P. Boniface Aicher, OSB, said, "She's your mother whether you like it or not!") Jesus is now asking all of us today to love her the way He does.
How does it work?  It works like any relationship.  We start slowly, getting to know each other, by listening and talking in prayer.
How should we address her?  I call her "Mother/Mom," many people call "Mamma Mary," and some just call her, "Mary."
When we talk to her, we don't praise her the way we praise God, because she's not God, but we honour her and begin our prayers by saying, for example, "Mother, we honour you, thank you for loving us; we love you too.  Thank you for your consent (saying "yes") to God's plan and giving us Jesus to redeem us."  And then we can ask her to pray for us: "Mother, you know I need a lot of help.  Please help me to love like Jesus.  Pray that I receive Jesus the way you did.  Pray that I can be more virtuous.  Accompany me in my sufferings just as you accompanied Jesus through His suffering on the cross.  Please help me to be like you and let God take control of my life."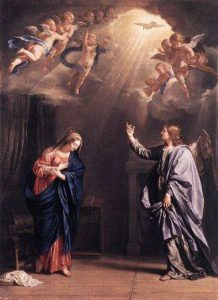 At the back, we have pamphlets on how to pray the Rosary.  The Rosary isn't the only way to live out our relationship with Mary, but it's probably the most common.  It was the favorite prayer of St. John Paul II, and almost every saint I can think of in the last thousand years has prayed it.  It is an extremely powerful prayer!
We also just finished the 33-day Marian consecration. It was amazing for so many people, and so good that we'll do it every year to deepen our relationship with her.  At the beginning of next November, everyone's invited to join us for this prayer.
Over time, our relationship with her will develop on its own, and each of us will spend time with her in our own way; we just need to give it time and attention, and to pray to Jesus for the grace of loving His mother as He did.
When I was 20 years old, I went to New York to discern if I was going to become a Jesuit, and when all these Jesuits heard my last name, they asked, "Do you know Fr. Danny Huang?"  "No," I said.  But they told me he was from the Philippines, like my father.  So I called my grandmother and asked if she knew who he was, and she said, "Yeah, he's your cousin."
Fr. Danny and I met face to face four years later and it was fun to get to know each other, because we're family.  But we weren't yet close.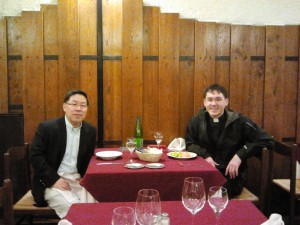 Five years after that, I was sent to Rome, and guess who got sent there six months before I did?  Fr. Danny.  The first year together was just getting to know each other, but after the second and third year, we became great friends!  Every Sunday became our day of rest together: We would celebrate Mass, then do Insanity, and then have dinner—it was the perfect way to rest in the Lord!
It was such a blessing to find out I was related to someone so amazing.  I never knew I had a cousin who was a priest, but because we're blood, we were already connected, and so we loved each other.
In the exact same way, we now find out that we have a mother we never knew about and she's humanly speaking, perfect!  "Wow!  We're blood!  You've always known about me, but I never knew about you.  I want to get to know you.  Let's spend some time together."  Jesus would be so happy!
Jesus loves her, and we want to be like Him.  We should never be afraid of loving Mary too much because we can never love her as much as He does.
Why do we love her?  Because she's good to us, prays for us, does so much for us?  No.  We love her because she's our mother.