Jonathan Pitre is a 16-year old from Ontario who has a rare skin condition called epidermolysis bullosa (EB), which causes severe and very painful blisters all over his body.  His whole body is wrapped in layers of bandages, and he has to have them changed every two days, taking three hours, and sometimes causing so much pain that he has begged his mother to stop.
When asked, "Where do you get the strength to get up every morning knowing what you're going to have to go through?" he responded, "The strength comes from the people around me."  For years, he thought he was the only one going through that pain, until 2012 when he went to a conference for other people with EB, and it changed his life.  He said, "I had never met anyone with my condition….  I had never known there was anyone else….  I knew that I wasn't alone anymore".
His experience points to a need every person has: Not to be alone.  When we suffer, we sometimes feel as if we're the only one suffering, which is extremely painful.  We're made for relationships, and suffering can only be borne well with other people.
That's why there are support groups for almost every category of person.  I love talking to priests because only they truly know what I go through.  Only mothers can truly know what a mother goes through.  When a father loses his job, he needs to talk to other men.  And people with depression or mental illness are supported by other people who have it or have made it through.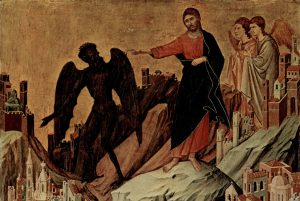 This is one reason why Jesus went into the wilderness for 40 days.  In the Gospel, it says, "After Jesus was baptized, the Spirit drove him out into the wilderness.  He was in the wilderness for forty days, tempted by Satan; and he was with the wild beasts; and the Angels waited on him" (Mk 1:13-14).
Why did the Holy Spirit drive Jesus into a place where He would be tempted?  Pope Benedict XVI said that it's because Jesus had to experience the trials of humanity; He had to go to the "uttermost depths" of human existence, "in order to find the 'lost sheep'… and to bring it home" (Jesus of Nazareth, Vol. 1, 26).
It's fascinating: Why was Jesus with wild beasts?  Because Adam was with wild beasts in the garden of Eden and then tempted by Satan.  Why was Jesus there for 40 days?  Because the Hebrew people were tested in the desert for 40 years.  This is why Pope Benedict says, "He must go through, suffer through, the whole [history of humanity's suffering], in order to transform it."  Where they failed, however, Jesus succeeds!
Christopher Hitchens, the famous and aggressive atheist, thought God sits by humanity's suffering with arms crossed, meaning He doesn't care.  On the contrary, because of Jesus, the Letter to the Hebrews says this, "We do not have a high priest who is unable to sympathize with our weaknesses, but one who has similarly been tested in every way, yet without sin" (4:15, NAB).  Wow!  We're not alone, God understands our suffering.  Hebrews 2:18 also says, "Because he himself was tested through what he suffered, he is able to help those who are being tested."
Now it's true that Jesus didn't suffer every single form of human suffering possible.  But we can find a saint, our older brothers and sisters in Christ, for almost every suffering we're going through, since they are people who have experienced it themselves.  Someone here once told me that she always goes to Mary because she's a mother and knows what it's like.
Which of the following saints do you relate to?
Dorothy Day, who's up for canonization, had an abortion.
Matt Talbot was an alcoholic.
Elizabeth Ann Seton was devastated at the deaths of her 16-year old and 12-year old daughters, and was also abandoned by her friends when she became Catholic. And St. Jane Frances de Chantal was distraught by the death of her husband.
Martin de Porres was rejected by his father because of his dark skin: The father was Spanish while the mother was black, so when Martin was born, the father was disappointed that his son looked black (Fr. Vincent J. O'Malley, CM, Ordinary Suffering of Extraordinary Saints, 72). Bl. Magadalene of Canossa was abandoned by her mother.
Benedict Joseph Labre tried to become a priest four times but was turned away because of his mental illness.
Louis Martin, St. Therese's father, had many strokes.
Catherine de Hueck Doherty, another candidate for canonization, seriously thought about suicide three times. Once, she even went to the Brooklyn Bridge in New York ready to jump.
Frederic Ozanam suffered from loneliness because he didn't have satisfying friendships.
John XXIII lived in poverty.
Catherine of Genoa's husband cheated on her many times, while St. Monica was the victim of verbal abuse from her husband.
John Vianney was a poor student. His report card read: Application–good; Conduct–good; Character–good; Knowledge–very weak.  He gives all seminarians struggling with their studies a lot of hope!
Charles de Foucauld lost his faith and struggled with lust.
Augustine was also a lustful man and he and St. Margaret of Cortona both had children out of wedlock.
Last week, we talked about how God sometimes uses suffering to heal something inside of us.  And, while it's true that He doesn't always take away the suffering, it's equally true that He's always with us when we suffer.
Here are a few ways we can be more aware of this: 1) Stations of the Cross.  These are beautiful meditations on the suffering of Jesus, and the prayers we use on Tuesdays have Jesus speaking to us, which is very consoling.  2) For the next 14 weeks, during Lent and Easter, we'll use the Apostles' Creed which says Jesus "descended into hell," which is not the hell of the damned, but that of the just who died before Christ's death and resurrection (CCC 632-633, 637).  Pope Benedict again points out that this phrase also means that Jesus entering into human suffering happened during His whole life.  We're going to use this creed because this phrase will remind us that Jesus is with us, and it's a good way to learn the first prayer used in the Rosary.
I told you last week about a woman here whose son is in jail.  Today I'd like to share with you briefly about a visit I made to another parishioner, Norman Lai, who died two weeks ago.  Norm was only 50 and battled with pancreatic cancer for over a year, which slowly wore down his body.  He who was once muscular and athletic had become extremely thin, his feet were swollen, he couldn't eat anymore, and he had bags attached to him because he couldn't go to the bathroom anymore.
I was extremely edified by his attitude and faith: He didn't complain, but was upbeat, cheerful, and peaceful.  In the last year of his life, he came much closer to God.  When I saw him six days before he died, I gave him the Last Rites, and afterwards, asked him, "Is there anything else I can do for you, Norm?"  We were sitting on the edge of his bed together, and he grabbed my hand and held it, and said, "Just be with me… Just be with me."  Here was a tough guy who had become spiritually more mature.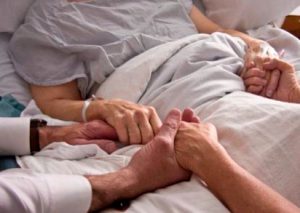 This can be a new and deeper prayer for all of us when we're suffering: We just softly repeat to Jesus, "Just be with me…  Just be with me."  No fancy words, just straight from the heart.  And we can do the exact same prayer with the saints; just as God sends people to comfort us, so He sends saints to comfort us.  And then Jesus will say back to us, "I'm here… I'm here," over and over again.  This will give incredible peace and strength; we'll realize Jesus is supporting us in our suffering.  And after some minutes of this, we can change our prayer to, "Thank You for being with me…  Thank You for being with me."  We are never alone in suffering because Christ is with us.