Happy Easter, everyone!
Patrick Lencioni is a husband, father of four boys, and a business guru, best known for his famous book, The Five Dysfunctions of a Team.  When he was in high school, he prayed, "God, I'd be happy if I can just get into this school that I really want."  He got in.  Then he prayed, "God, if I could just get good grades here, I'd be done."  He got good grades.  Then he saw a girl he liked and prayed, "God, if I could just date her, I'd be so happy."  When he was graduating, he said, "God, if I could just get this one awesome job in a management consulting firm (listed as the number one job for graduates)…"  He got the job!  Then: "If Laura would agree to marry me, please God help me."  She agreed and he was happy.  Then he wanted another job, and that his children would be healthy.  When they found out that their son, Connor, didn't have a brain tumour, he said, "God, I'm so happy I don't want anything else."  However, it did go on: with getting a house, starting his own business, publishing a book, wanting it on the best seller's list, etc.
Then a few years ago, in New York, he was rated the best speaker at The World Business Forum, the most prestigious management conference in the world. After the applause, he walked off the stage and was utterly empty.  He went for a walk.
This story resembles the Gospel for Easter afternoon,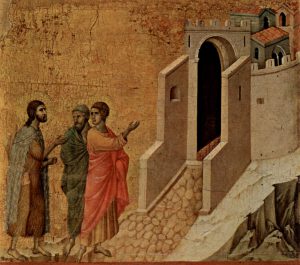 about two disciples walking to Emmaus, eleven kilometres away from Jerusalem.  They were sad and depressed because they "had hoped that [Jesus] was the one to redeem Israel," (Lk 24:21) but He had been crucified and had died.  While they were talking, Jesus, who was now risen, came up alongside and talked to them, but they could not recognize Him.
He listened to their pain and sadness, and, once they were finished, He explained the Scriptures and taught them about their false expectations.  They expected the messiah to rescue them from the Romans, but Jesus came to free us from something much worse: sin.  He spoke to their hearts in such a way that they asked Him to stay with them!  Once He celebrated Mass, they recognized Him, and then He disappeared.
This is how Jesus operates in our lives: Jesus is truly alive and He's always walking beside us even when we can't recognize Him.  Why?  Because He respects our freedom.  He's not going to force us to listen to Him.  He first empathizes with us and spends time with us.  This is exactly what happened whenever Jesus appeared to one or two disciples after His Resurrection: He listens to them, and then explains the truth to them, waiting for their hearts to open up, and then they recognize Him (Fr. Robert Spitzer, SJ, Five Pillars of the Spiritual Life, 136-7).
For Patrick, after that talk he gave, he stumbled into St. Patrick's Cathedral, got on his knees and prayed that God would save him.  God was listening, and showed him that what he was really seeking was peace.  He now says, "If you're not living for God, you will not find what you're looking for" (Patrick Lencioni, Light in the Darkness, Track 3, 2:17).
Later on, after Mass one day, God revealed another thing to him, and Patrick prayed, "God take away my pride."  God said, "Are you sure?  Because you have a lot of it."  And he answered, "Yes."  After that prayer, God stripped away, in the most painful, lonely, and beautiful way, so much of that pride that he had built up over 42 years.
Pride is the root of all sin because, by it, we make ourselves the centre of the universe and start determining what's right and wrong; we constantly compare ourselves to other people and try to do more, and have more, to make ourselves feel good.  Nevertheless, when we have more, it's at the expense of others; when they have more, it's at the expense of our ego.
Jesus shows us a better way.  As Jesus said to the two disciples going to Emmaus, "Was it not necessary that the Christ should suffer these things and then enter into his glory?" (Lk 24:26).  Yes, the messiah had to suffer and die to show us that God is perfectly humble and humility is divine.  The messiah had to suffer and die to show us that humility thinks about others first.  The messiah had to suffer and die to show us that sacrifice and self-giving are the greatest expression of love.
I'll give you two other examples of how the risen Jesus walks beside us.  1) Fr. Timothy Gallagher, a very famous priest in the US,  tells the story about a dark period in his life, to which we can all relate.  He says, "I was withering inside… and I did not know how to overcome the exhaustion, depression, and spiritual desolation that I was feeling all too frequently…  I was on the verge of collapse…  I had tried every means I knew to resolve the physical, emotional, and spiritual darkness – more faithful exercise, ongoing prayer, times of rest away from work – and I… failed to find a way" (Fr. Timothy Gallagher, OMV, The Examen Prayer, 33).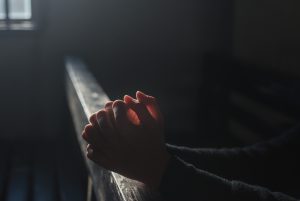 So, Jesus was walking beside him, but he couldn't recognize Him.  One night, some friends invited him to a prayer service.  He went, partly to please them and partly because he was curious.  However, when he arrived, he found a packed university chapel of six to seven hundred people praying, and their prayer was so contagious that, "for the first time in a long time, [he] was… brought to a stop."  With no more urgent problems, working hard, answering the phone, typing at the computer, he had quiet time to ask God for help, "for light to see, for strength to act."  And he said, "I did see, for the first time and with great clarity, the nature of my situation.  I had to face my own inability to resolve my struggle…  I needed to let myself be helped."
Here we go with humility again!  Part of our human condition is admitting that we need help.  Many of us keep on repeating the same problems because we try to do it on our own.  We all need God and we all need people to help us.  So, be humble.
2) I used to be weighed down by guilt from the times I've hurt people.  I've confessed all these things, and have tried not to hurt people in the same way, but still felt burdened that people would still be hurt, some of whom I'd never see again.
In my sadness, I once brought it to Trudy McCaffrey, a famous spiritual director of priests in the US.  A spiritual director is someone who helps a person grow closer to God in prayer, discernment and virtue.  And get this, Trudy graduated from our local Catholic girls' school, Little Flower Academy.
During our meeting, Jesus spoke through her.  She told me, in her direct and bold manner, that I was now supposed to pray for these people: "You pray for these people, that God loves them in such a way that they'll be healed and that they'll turn to Him."  She further explained how you never know how God works: "Maybe He allowed these sins so that you'd pray for them, because the prayer of a priest is very powerful."  Coming out of that spiritual direction, I resolved to pray for these people every Friday for the rest of my life.
Trudy reminded me of the power of Jesus' priesthood.  It's not my power.  I've been entrusted with a gift and I have to use it to its utmost power to help people.  It's humbling to know I've hurt people, but now I have to take responsibility and help them.
Patrick Lencioni and Fr. Gallagher encountered Jesus while they were at prayer, and I encountered Jesus through a prayerful conversation.
I'd like to in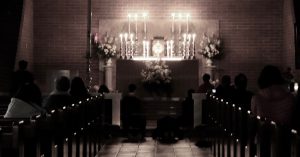 vite everyone to a place where we can encounter Jesus.  Every first Saturday of the month, including this coming Saturday, from 7:30 p.m. to 9:00 p.m., we have adoration with praise and worship music.  This is beautiful modern music that touches our hearts and emotions, and can be extremely enlightening and healing.  When we're in a dark church in front of the Blessed Sacrament, we have a chance to spend time with the risen Jesus and listen to Him.  I pray that we'll all try this at one point this year.
The two disciples on the road to Emmaus were so touched by Jesus that they said to each other:  "Were not our hearts burning within us?" (Lk 24:32).  Patrick Lencioni's heart is now so on fire that he started The Amazing Parish to help Catholic parishes, and wrote a book to help priests!  And so many people are benefiting from the talks and books of Fr. Gallagher.  Likewise, Trudy's help has given me great freedom, confidence in God, and a deeper understanding of the power of the priesthood.
All of us are weighed down by something.  Jesus asks us, "What's wrong?"  After He listens, He explains the Scriptures to us, showing that humility is the path to healing, peace, and freedom.  Spend some time in silence and prayer, go for a walk.  He's right beside us.