I've been going to the same spiritual director for the past 18 years.  A spiritual director is someone who's spiritually advanced and mature, and guides one in spiritual growth.  Why have I been going to the same spiritual director for almost half my life?  Because he's amazing:  He's a great listener, balanced, objective, and kind.  We have had some life changing conversations and lots of laughs (Have you ever heard people laugh in Confession?  That's a beautiful thing!).  He can tell when I'm deceiving myself.  When I'm being either too hard or too easy on myself, he'll tell me.  He even saved me at one of the most difficult periods in my life.
Friends, do you have anyone spiritually mature as this in your life, someone not telling you what you want to hear, but what you need to hear?  Many of you want and need spiritual direction.  Unfortunately, I can't do that anymore because I have to lead the parish.
But today I'm going to give you some group spiritual direction based on the Gospel.  By the way, every homily I give is like spiritual direction; I'm always trying to nourish your faith, challenge you, and give you tools.
The Gospel starts out:  "On the third day there was a wedding in Cana of Galilee, and the mother of Jesus was there.  Jesus and his disciples had also been invited to the wedding" (Jn 2:1-2).  Notice that the Gospel focuses on Mary first, and then adds that Jesus was "also" invited.  What does this tell us?  That spiritual friends are important, our mother Mary is one of the most important, and these friends bring us to Jesus!
"When the wine gave out, the mother of Jesus said to him, 'They have no wine'" (Jn 2:3).  This is a big problem because weddings in the Holy Land at that time were celebrated for a week and the entire town took part; it wasn't just two people coming together, but two families, and wine was a necessary part. Notice that it's Mary who observes the problem.  This tells us that she's often the one to notice our problems and then bring them to Jesus.
"And Jesus said to her, 'Woman, what concern is that to you and to me?  My hour has not yet come.  His mother said to the servants, 'Do whatever he tells you'" (Jn 2:4-5).  There's no ancient Near East text where a son calls his mother, "Woman."  It's not rude; it's just not normal.  Yet Jesus is doing so because Eve was the 'woman' who led Adam into sin, and now Mary is the new Eve, the new woman, leading the new Adam, Jesus, to save us!  Jesus wasn't going to initiate this miracle, but will at Mary's request (Ignatius Catholic Study Bible, 164)!
She then tells the servants to obey and trust in Jesus.  That's important, because what Jesus will do won't make sense to them:  He tells them to fill the huge stone jars full of water, when they need wine.  But because of their trust, a miracle happens (Daniel H. Mueggenborg, Come Follow Me, Year C, 114):  He changes water into wine; the wedding is saved, but, more importantly, it says His disciples believed in Him ("Jesus did this, the first of his signs… and revealed his glory; and his disciples believed in him" (Jn 2:11)).
So, here's the deal: God is attentive to our problems!  For example, St. John Paul II, in his letter on suffering, said that God expects us to ask about suffering, and listens to us (Salvifici Doloris, 10).  In November 2018, when we did the Marian consecration, the book we used said that this Gospel passage tells us that Jesus and Mary see what's burdening us (Fr. Edward Broom, O.M.V., Total Consecration Through the Mysteries of the Rosary, 65).  And it recommends that we tell them our problems—this is the spiritual tool God's giving us today.
Here are two ways to do so:  Number one is what I call 'Holy Complaining,' meaning that we tell God our problems as we would to any friend.
In 1996, seven Trappists monks were beheaded by Islamic terrorists in Algeria. Their last weeks were made into the fantastic movie Of Gods and Men.
In the film, the town where they live is shaken when the extremists slash the throats of some foreign businessmen.  At one point, the terrorists storm the monastery, but leave without harming anyone.  However, one priest, Fr. Christophe, is traumatized and can't sleep properly anymore; the slightest noise wakes him.  In one scene, he's on his bed praying, "Help me, help me.  Don't abandon me!  Don't abandon me, please!  Help me!" waking up everyone in the monastery.  He's complaining to God.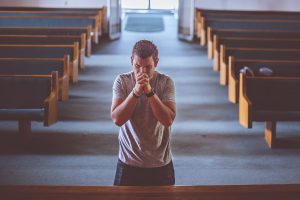 Holy complaining means telling God everything, holding nothing back.  We're saying, "Here I am, with my anger, frustration, confusion, and the reason I'm complaining to You is because I love You and trust in You, and you're the only One Who can solve this."  Many psalms in the Bible classified as lamentations do this, and they never disrespect God but always end in hope.  We shouldn't act as spoiled children who complain whenever things don't go the way they want—that's not mature.  We will know our complaining is coming from love and trust when we pray at the end of every conversation, "Thy will be done."
Talk to God using your own words, speak out loud (when no one is around, otherwise they'll think you're crazy).  For those of us who are new to prayer as a conversation, it will feel at first as if we're talking to ourselves—deeper prayer often starts like that; this is something we all go through.  Eventually, you will know you're not talking to yourself, but to God.
Second, here's a picture of a kind of spiritual journaling: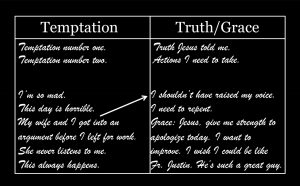 There are two columns: on the left, we write down what's bothering us, our temptations; on the right, we write down two things: the truth and the graces for which we're asking.
Journaling is helpful because it makes things more concrete, acknowledging both what's bothering us and what Jesus is saying to us.
On one occasion, I had only two things taking away my peace.  What was more important for me during that conversation with Jesus was writing down what He wanted of me—that was the long part!  I wrote down the truths He was telling me and then the actions I was supposed to take.
Another time, it was more complicated.  There was a problem but I couldn't identify the root cause (too many things were on my mind), so I wrote down all my emotions and thoughts over the course of a day, and from there emerged the root problem.  Once I did, I could expose the temptations.  Where we're hurting is where God wants to heal us.
St. Ignatius of Loyola says in the 13th Rule of Discernment that the devil likes to keep everything secret. But once we write our temptations down, they're exposed, and we see clearly.  For example, "I'm so angry."  Write that down.  Why?  "This day's horrible."  Keep on writing.  "My wife and I got into an argument before I left for work."  "She never listens."  "This always happens."  But then with more time in prayer, we write down, "I shouldn't have raised my voice." That one actually goes on the right side, because it's the truth; you see how there's an arrow, because those two ideas are connected.  "I need to repent."  "Grace: Jesus, give me the strength to apologize today."  "I want to improve."  "I wish I could be more like Fr. Justin.  He's such a great guy."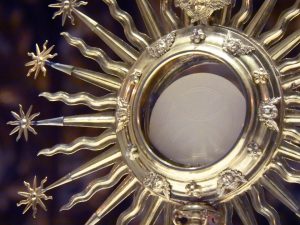 Now where's the best place to do this?  In front of the Eucharist.  We've said before that God is present everywhere, but not to the same degree.  He holds everything in existence, but He's more present in us than in inanimate objects, because we're made in His image.  He's more present when Christians pray together because Jesus said, "Where two or three are gathered in my name, there I am in the midst of them" (Mt 18:20).  And He's truly, really, substantially present in the Eucharist.  The best way to have a conversation with someone is face-to-face; that applies to Jesus, too.
In the bulletin today, there's a sample page of writing a spiritual journal (Bulletin Insert on Spiritual Journaling) with helpful questions, so that you can try this.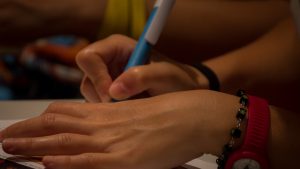 All of us need and want good spiritual friends—we need to grow as a community, and do this for each other; that's how we love as Jesus!  That's why hospitality is so important to us, because it's the foundation for letting spiritual relationships build.  But more importantly, Jesus and Mary want to be our spiritual directors.  Today, they've given us two simple ways (that may only take 5-15 minutes) to enter into that relationship.
In Of Gods and Men, after Fr. Christophe can't sleep, in the next scene, we see him kneeling down on the ground in front of the Eucharist, and then later he has a conversation with his superior about his fears.  His superior strengthens and encourages him to be faithful.  Towards the end of the movie, Fr. Christophe has a change of heart, and rather than wanting to leave the monastery as before in order to save his life, he votes to stay and eventually die for Jesus.  And then we see him on his bed again, this time journaling, physically drained but spiritually strong, saying quietly and with a gentle smile, "You.  You envelop me, hold me, surround me.  You embrace me.  And I love You."  He and his confreres were declared blessed on Dec. 8, 2018, recognizing that they're in heaven, they're saints, and we can pray to Bl. Christophe for help.
God our Father wants to hear our problems and lead us to His solution.