Here's a look at the Mass attendance in the Archdiocese of Vancouver from 2012 to 2018.  In the first few years, everyone's happy.  However, once things started going downhill, very few wanted to talk about it.
(Listen to Fr. Justin's homily here.)
Some suggested that numbers went down because the weekends we counted, there was a storm.  Good explanation!  The storms must be getting worse every year.  And next year, the numbers will go back up beyond 86,000, right?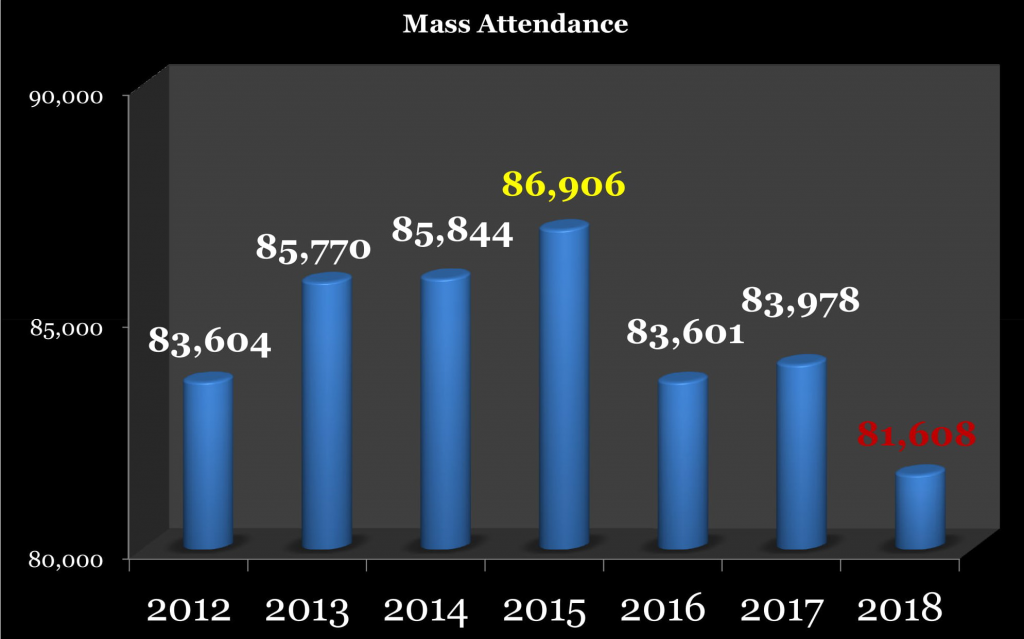 What we're talking about today is the human need to bear fruit, as the Bible calls it; but, at the same time, we're afraid of hearing about bad fruit.  Dear guests, brothers and sisters, a month ago, God told us not to censor ourselves, so today, we should face some sobering facts.  Please know, however, that I say them in love.
For myself, I ask, "How much fruit have I borne as a priest?"  Some.  When I look more closely, I haven't borne as much fruit as I should.  One of the measures of the holiness of a priest is that men and women are inspired to choose priesthood and sisterhood because of his example and ministry.  So, I must face the truth that, if I were holier, I would bear more fruit.
We've mentioned before that 91% of Catholics, by age 22, no longer practice their faith.  We parents don't like to think about it, because it could be partially our fault. The truth is, and this is a generalization, but holds for most cases: Catholic parents who are disciples, who are devout and make Jesus the centre of their lives usually have children who are the same.  (I know this hurts, and I'm sorry, but Jesus is asking us to talk about this today.)  Are there exceptions?  Of course, but these are exceptions, not the rule.
I once met a mother who was crying that her daughter was living with an older man who was taking advantage of her.  The mother wondered why the daughter didn't listen to her. Then I realized that the daughter was just following the mother, that is, the mother always resists authority, especially the authority of the Church, because she's a cafeteria Catholic, and so the daughter's doing the exact same thing.
This happens with many parents: Their children don't follow Jesus anymore and don't practice their Catholic faith, but then I learn that the parents have made compromises with their own Catholic faith.
Now, we all want to improve this situation, so let's listen to Jesus.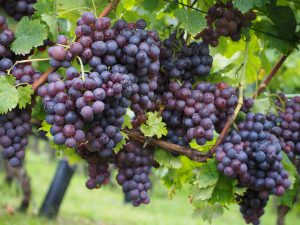 He says today: "No good tree bears bad fruit, nor again does a bad tree bear good fruit; for each tree is known by its own fruit.  Figs are not gathered from thorns, nor are grapes picked from a bramble bush.  The good person out of the good treasure of the heart produces good, and the evil person out of evil treasure produces evil"(Lk 6:43-45).
The first step to improvement is to acknowledge that the human person is designed by God to bear fruit!  We're made in God's image, and God is fruitful!  Love is fruitful!
This means we have to avoid two lies/excuses that make us feel good when we're not bearing fruit: 1) God loves you just the way you are.  Whenever someone says, "God loves you just the way you are," say to them, "That's half true.  God loves you just the way you are, but loves you too much to let you stay the way you are."
So, when I tell you that I'm saddened that my priesthood hasn't borne more fruit, some of you will say, "Father, you're a good priest.  You've helped a lot of people."  Alright, you say this to encourage me to keep on doing good. But, in addition, challenge me to be holier.  Jesus says, "No good tree bears bad fruit…  Each tree is known by its own fruit."  He's telling me to become a better tree!  So, help me to not be complacent!  I'm always encouraging you to grow—I look forward to the day when you'll do that for me and for each other!  Take responsibility for this and take initiative.
2) The second lie/excuse to avoid is lowering our standards.  Instead of aiming for sainthood for our children, we say, "Even though my children don't practice the faith, they're good people."  But Jesus says the goal of life is, "Be perfect, therefore, as your heavenly Father is perfect" (Mt 5:48).
Dr. Ray Guarendi, a family counsellor, calls this the "Well-they're-not-on-drugs" approach (Good Discipline, Great Teens, Chapter 4, 78).  A lot of kids are rude, self-centered, self-absorbed, ungrateful, and lazy, but then some parents say, "At least they're not on drugs."  Expecting our children to be nice is a low standard:  It's easy to be nice; nice people typically have no real courage, and it's so vague that nice people typically also do a lot of moral evil.  Some parents say that their non-practicing children still believe in Jesus—good, but they don't love Him.  If they did, they would, as Jesus teaches, keep His commandments (Cf. Jn 14:15).
God has called us to be a parish desiring to be saints, and so the expectation for me and the parents is that all of us and our children become saints.  Jesus says, "My Father is glorified by this, that you bear much fruit and become my disciples" (Cf. Jn 15:8).  Thank you, Jesus, for reminding us of this truth!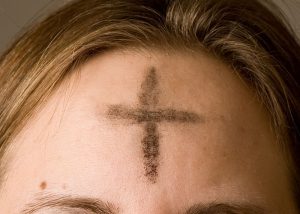 The second step to bearing fruit is to unite ourselves more to Jesus.  Jesus says, "I am the vine, you are the branches. Those who abide in me and I in them bear much fruit, because apart from me you can do nothing" (Jn 15:5).  This Wednesday is Ash Wednesday.  What needs to change in our lives?  During Lent, how can we live more like Christ in His prayer, fasting, and almsgiving?  These are the three traditional practices of Lent.  How can we raise the standards for ourselves!?
Choose a prayer that will bring you closer to God.  Deacon Andrew will lead Stations of the Cross every Tuesday night during Lent.
Fasting usually means skipping a meal, eating less, eating less of what we like or more of what we don't like!  Offer this for your children, that they come back or stay close to God.
Almsgiving means giving to those in need.  Give some money to or serve those in need.  Do acts of kindness for others.  And the most powerful work of mercy will be 40 Days for Life, where, on March 7, 8, 9, and 10, we'll stand up for the defenseless and save some children from being killed.  It's really beautiful to see that at least 159 people have signed up for this.  I praise God for you!  Thank you!  But that's actually very low considering we're covering four days.  Last year, we had about 220 people signed up for two days.
Let's just review what we're doing:  We're asking everyone here to take one hour to pray  silently for an end to abortion.  We have booklets that we use to help us pray.  We don't confront people; we just publicly pray.  No one will hurt us.  B.C. Women's Hospital is aware of our presence.  We're standing on private Catholic property.
There are 6 time slots where no one's signed up, and 14 slots where there's only one person signed up.  We shouldn't let this happen.  No one should be praying and witnessing alone.  We need to come to the side of each other and support our brothers and sisters.
A beautiful thing we can do is ask a friend to pray with us to end abortion, "I was thinking about going.  Want to come with me?"  We're always stronger when we're in a group.  We can go as a family or a group of friends.
As your priest, I'm personally asking you, for the love of God and for the love of humanity, to join the whole community in doing the right thing.  If we're pro-life, let's put it into practice!
However, the focus of our parish right now is Eucharistic adoration, which will powerfully unite us to Jesus and thus bear more fruit.  Here are three fruits of adoration:
1) It lets God's grace flow through us.  Why is it that so many people say the same thing about the saints?  That they remind us of Christ.  How is it that St. John Paul II could see that the young Swiss guard who was away from home for the first time at Christmas was hurting?  How could he change that young man's life with a few words?  The answer is:  It wasn't he, but Christ flowing through him.  St. John Paul II was famous for spending hours in the chapel, often prostrate on the ground with his arms outstretched in the form of a cross.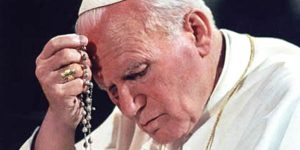 In 1995, when he was in Baltimore for a papal visit, at the nunciature where he was staying, his aides actually hid the chapel from him, because they knew that, if he found out where the chapel was, he'd spend too much time there and disrupt the tight schedule!  Nevertheless, he actually walked by the door and still found the chapel.  When a Baltimore priest witnessed this, he was stunned: How did he know the Eucharist was there? (Jason Evert, St. John Paul the Great, 135,137-138).  The Eucharist will increase the fruit of every good work we do because Christ will be living more in us.
2) Adoration gives courage.  If we want more fruit, we need more courage!  In 1994, St. Mother Teresa was invited to the U.S. National Prayer Breakfast. Whereas most politicians tell people what they want to hear, Mother Teresa spoke the truth.  Here it is (from 0:00-1:43):
However, not everyone clapped, including President Bill Clinton and his wife, Hillary, but Mother Teresa had courage!  From where? The Eucharist.  She said, "In our congregation, we used to have adoration once a week for one hour, and then in 1973, we decided to have adoration one hour every day.  We have much work to do.  Our homes for the sick and dying destitute are full everywhere.  And from the time we started having adoration every day, our love for Jesus became more intimate, our love for each other more understanding, our love for the poor more compassionate, and we have double the number of vocations."
3) Adoration helps our children.  In 1881, in the small Italian village of Lu, near Turin, the mothers of that town decided to pray for vocations, that some of their own children, as a priest or sister,  would follow God.  "Under the direction of their parish priest… they gathered every Tuesday for adoration of the Blessed Sacrament… received Holy Communion on the first Sunday of every month… and prayed a particular prayer together…  Through the trusting prayer of these mothers and the openness of the other parents, an atmosphere of deep joy and Christian piety developed in the families, making it much easier for the children to recognize their vocations."  The parents would say, "The Lord gave us our children, and so if He calls them, we can't say, 'No.'"  Consequently, their parish produced 323 vocations:  152 priests and 171 nuns!  That's unheard of!
This photo shows a meeting that the parish would hold every ten years, when they'd come back for a celebration.  Some families had three or four vocations and the most well-known was Bl. Philip Rinaldi."  (Boy, I can't wait until one of us is beatified!)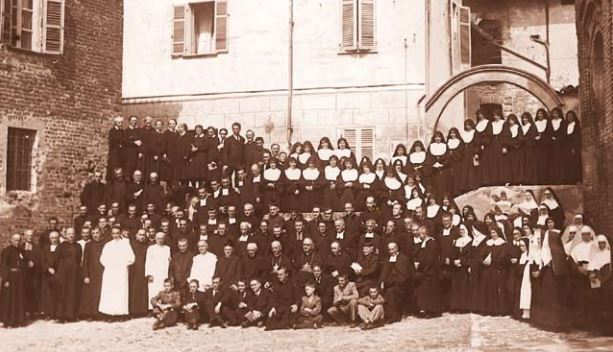 Don't give into discouragement.  Think what could happen if we adore Jesus more.  There's time and there's always hope.  God is a God of miracles and wants to bring our children home.  Focus on being a good tree!  Good trees bear good fruit!