There are two things you can do to see God's blessings in your life: 1) Perspective.  Our life is probably better than we think.  One time, the wife of author Michael Hyatt asked, "How was your day?"  "Man, it was terrible."  "Really, what was so bad about it?"  When he finished telling her, she said, "It sounds to me like you had a really bad 20 minutes, not a bad day."  He said, "That's pretty much right, because the rest of the day was pretty great".
[Watch Fr. Justin's homily delivery here.]
2) Hearing stories of God's blessings in other people's lives.  Whenever someone is discouraged, I try to share a story of God's blessings in someone else's life.  Hearing this, their faces cheer up a bit and they start seeing blessings in their own lives.
There's a very simple story of God's blessings in the First Reading: "Now when David, the king, was settled in his house, and the Lord had given him rest from all his enemies around him, the king said to the prophet Nathan, 'See now, I am living in a house of cedar, but the ark of God stays in a tent'" (2 Sam 7:1-2).  For just over 400 years, since the time of their leader Joshua, the Jewish people had almost no rest from their enemies (John Bergsma & Brant Pitre, A Catholic Introduction to the Bible, 364). We can imagine David sitting in his house, breathing in deeply, and fully realizing what a blessing God has just given him.  He's so grateful that he wants to do something special for God in return: He realizes that he's living in a fixed house, but the ark, which for the Jewish people was the sign of God's presence and their most sacred object, was located in a temporary fixture.  This is a replica of the tabernacle which housed the ark: the structure is fixed and somewhat elaborate: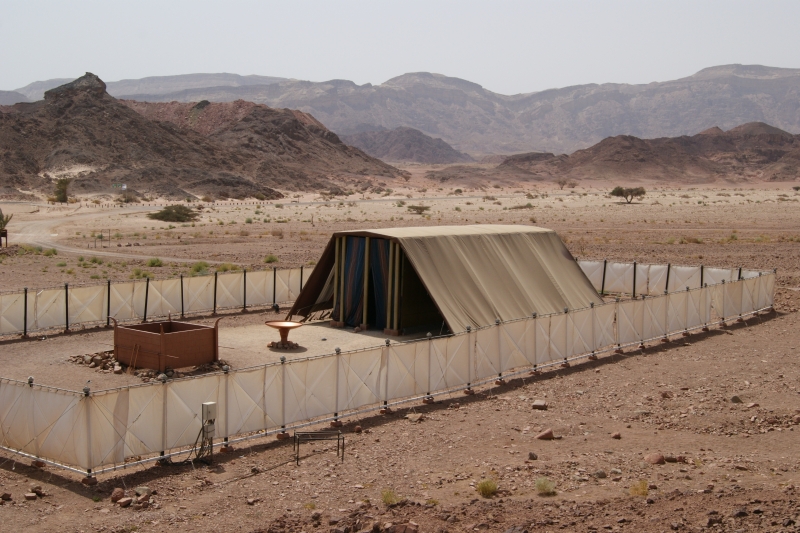 The general consensus, however, is that when David brought the ark to Jerusalem, the ark was housed in a much simpler tent.
Now, here's the amazing part: Even though God's already blessed David, He wants to bless him even more!  The Reading continues: "That same night the word of the Lord came to Nathan: 'Go and tell my servant David: "Thus says the Lord: Are you the one to build me a house to live in?  I took you from… following the sheep to be prince over my people Israel; and I have been with you wherever you went…  And I will appoint a place for my people Israel… so that they may live in their own place, and be disturbed no more… The Lord declares to you, David, that the Lord will make you a house… I will raise up your offspring after you… and I will establish his kingdom.  I will be a father to him, and he shall be a son to me"'" (2 Sam 7:4-5, 8-11).  There's a play on words here: David says he'll build a house for the ark, meaning a physical temple, but God says He'll build a house for David, meaning a dynasty, as in the English House of Windsor.  And God promises to give David an heir who will be a son of God, which is the first time in the Old Testament that an individual is referred to as a son of God.  And that son is, of course, Jesus, one thousand years later.
Here's the message for today: God's already blessing us and wants to bless us more.  If we have the mindset to see this, then we'll see it.  Of course, this doesn't mean there's no suffering in our lives because suffering is designed to help us mature.  Even when David had rest from his enemies, there were still hardships in his life.  But he was still grateful.  And God wanted to give him even more!
I'm going to share a story about prayer that some of you have asked me to share, for two reasons: because hearing stories of blessings makes all of us more grateful, and because sharing experiences of prayer will make it more normal for us to talk about such experiences.
Perhaps the biggest grace during my sabbatical is that God asked me to love Him by receiving more of His love.  Ever since I encountered Jesus' love for me when I was 16, I always felt I wanted to do more for Him to love Him in return.  When I went to the seminary, I learned that the way to grow in love is to increase the intensity of love, by increasing focus, intentionality, or sacrifice.  Just as we grow in strength by either increasing the weight or repetitions, so we grow in love by giving more of ourselves or with greater intensity.  So, my whole life since then, I've always wanted to love God more and would always try to do more for Him.
About seven years ago, however, I felt God was inviting me to deeper levels of prayer, because all spiritual theologians write that, when we go deeper in prayer, our prayer moves from the head to the heart, and God becomes more active while we become more passive.  When we're young, we learn to pray by reciting set prayers because they give us the framework for talking and listening to God.  But, as we grow, we use our head and heart more.  As it grows further, it becomes mostly heart.  And then God starts taking over, and we become more passive.
And so, during my 30-day retreat, I could feel the Holy Spirit wanting me to rest in His love and do nothing else; don't make acts of love or meditate on Scripture passages, just receive His love, just sit there for an hour and receive, and not at the level of emotions or the mind, but at the level of the soul.  So I went to my spiritual director, Trudy, and told her, "I'm not meditating on the Scripture passages you gave me.  My heart is just locked in on God and I feel so loved, so peaceful.  Is that right?"  She said, "Yes, that's where you're supposed to go.  That's how I spent my 30-day retreat in the 1980s."
This is what blew me away: My whole life, I've wanted to love God more and now He's telling me just to receive His love.  Of course, there are still times to sacrifice my life for Him, but, in prayer, He now wants me to love Him by letting Him love me.  And I pray: "I can't believe it.  I thought this was my time to love You.  You've already given me everything, and You still want to give me more."
When I explained this to a friend, I said, "I feel so loved and satisfied.  He's so good.  I wish everyone could experience this."
God the Father is already blessing us and wants to bless us more!  This year, we praise Him that six adults asked to enter His family through Baptism and become Catholic.  When we asked, "For what are you most grateful in the time before, during, or after your baptism" this is what they said:
Chrissy was most grateful for community, fellowship, a sense of security and purpose.  "During the process (of becoming Catholic) my relationship with God deepened and became more personal.  Now I feel in direct relationship with God, and as a result, I feel an increased comfort in the world and a deeper connection to everything."
Christie is thankful for the person who, before her baptism, told her that God had a plan for her life (Jer 29:11) because she felt lost.  After Baptism she was thankful for living in Christ and seeking his words in everything she does.
Michelle wrote: "I have waited for this moment for so long.  At first, I thought I cannot know Him enough to be baptized. Now I know God loves me so much that He wants to accept me into His family."
Jing: "After receiving baptism, I have never felt so clean!  At the moment when the water touched my forehead, I felt so loved and wanted to love everyone like Jesus.  After learning about Him, I believe God loves me so much that He wants to be so close to me."
Janice: "I'm grateful for how far I've come in my spiritual journey and to have found a church that I feel at home at."
Anky thanked God for the strength and guidance He's given her especially in these past difficult years.
For what are you thankful?
The theme of our Advent and Christmas is Begin Again!  Here are three ways to begin again:
1) Start with gratitude.  Remember how I've reminded you never to begin your prayers by asking for things?  We should start with praising God for Who He is.  But now I'd ask you to add gratitude at the beginning of your prayer.
2) Gratitude always leads to a renewal of worship.  When David had his period of rest from war, he desired to build a temple for the ark, so that his people could worship in Jerusalem.
It's human nature that we all grow lazy in prayer.  So, here are a few questions: Ask yourself how the Holy Spirit wants you to improve your prayer.  Are you faithful to what is good for you?  Could you come to the church for adoration?  You have to decide on your physical safety, but, let's also admit that sometimes we get lazy in the things that are good for us.
3) On Dec. 31, we're going to do something very beautiful: We're going to have a holy hour of adoration from 11 p.m. to midnight and then bless people online to start the new year.  So, let's say you're at your family's New Year's Eve party: You're having a beautiful celebration, then either at 11 p.m. you can pull out to pray, or you could pull out at 11:55 p.m. and join us for five minutes, and start the new year with Jesus' Eucharistic blessing.
What better way could we start 2021 than with Jesus?  And let's be honest: The countdown isn't that great.  Everyone chants, "Three… Two… One…" nothing's changed!  But, if we receive Jesus' blessing at midnight, then two things are changed: we've consciously decided to receive His love and we've decided to put Him at the centre of 2021 (Parish Vision).  This leads to the third suggestion.
People might ask, "What are you doing?"  You could answer, "My church has this theme of Begin Again and is giving a blessing to start 2021.  I'll join you for champagne at 12:01 a.m.  And, if you want to join me, it's only going to be five minutes!"  This witness would be powerful and would be a great conversation starter about faith.  And, usually, when people have something to drink, they open up and the discussion gets really good!  It could be that someone there is suffering from loneliness, some other struggle, or an existential crisis and needs that blessing.
We've been given so much, and it's natural to share it!  It's our joy and mission.  Don't keep the greatest treasure for yourself.  You're the channel of God's love.
If you've started your 11:02 prayer, keep it up!  People are being blessed by it.  If you haven't, it's not too late.  Whom do you love that needs God?  Please write down those names and pray for them daily at 11:02 a.m. or p.m.  If you want those names placed underneath the altar, fill out the form on our website—36 people have already done so.  I hope everyone else is just doing it privately, because people need your prayers now.  Think and pray boldly about whom the Holy Spirit is asking you to pray for.
And look for opportunities to invite them to Alpha on Jan. 6, 7, 9, 2021: Wednesday nights and Saturday mornings in English, and Thursday nights in Chinese.
On Dec. 7, a Gallup poll in the U.S. showed that the only group whose numbers went up in terms of reporting their mental health as excellent were… guess?  Those who attend church services weekly.  In 2019, 42% of weekly church goers said their mental health was excellent, and in 2020, this number went up to 46%.  Amazing.  We have to be genuinely grateful, because it's a gift.
Realizing that God has blessed us abundantly, it's time to reform our worship and time to help others.  Mental health is worsening, and likely spiritual/moral health, too.  Jesus is the answer, and we're called to proclaim Him in every circumstance.  Let's begin again by recognizing that God has already blessed us, and wants to bless us even more.