There are two ways we can look at our own sins: with the Father's mercy and without it.  One time, I was at a retreat with my spiritual director, Trudy McCaffrey, and one of my sins as a priest came up.  I knew it was wrong, but Trudy kept on hammering away at it.  I said, "Okay, okay, enough.  This bothers me more than it bothers you," and I started crying.  So, I got up, walked to the door, and said, "I'll talk to you tomorrow."  That's what shouldn't happen whenever we talk about abortion.
Yet, when we look at our sins with the Father's mercy, there's sadness for our sins, but we're not overwhelmed and not condemned.  For those of us who are new to our parish, some of our most beautiful testimonies have been from Jessica, Christel, and Eric.  During the past three years, each shared their story of abortion, the pain and suffering surrounding it, but most importantly, the Father's mercy.
This is where we start: with the Father's mercy.  Nevertheless, when we encounter Him, that's often when we feel guilty.  It's like when you shine a bright light into a room, that's when you see all the dust.  In the First Reading, the prophet Isaiah has a vision: "I saw the Lord sitting on a throne, high and lofty; and the hem of his robe filled the temple.  Seraphs were in attendance above him; each had six wings…  And one called to another and said: 'Holy, holy, holy is the Lord of hosts; the whole earth is full of his glory.'  The pivots on the thresholds shook at the voices of those who called, and the house filled with smoke.  And I said: 'Woe is me!  I am lost, for I am a man of unclean lips, and I live among a people of unclean lips; yet my eyes have seen the King, the Lord of hosts!'" (Isa 6:1-5).  Did you notice all the liturgical imagery?  A 'throne,' 'robe,' 'temple,' 'Holy, holy, holy is the Lord of hosts' (that's where we get that prayer of Mass, 'Holy, Holy, Holy Lord, God of hosts'), and smoke (like our incense).  So, it's possible that when we come to Mass, our guilt can come back to us.  Have you ever experienced something that reminds you of past or current sins (e.g. you hear the words 'pornography' or 'adultery'), and you immediately feel horrible?  If I read a book about priesthood, then I see how I'm falling short, and I feel horrible.  But don't run away—that's a temptation.  This is where the Father comes to meet us!
There was a woman in New Jersey who confessed her sin of abortion, but still couldn't come to a church without crying.  The important thing was that she kept coming, and, one day, while in church, she read something in the bulletin about healing from abortion, and this led to counseling that brought definitive healing.
In the same way, Isaiah doesn't run from the temple but says, 'Woe is me!  I am lost, for I am a man of unclean lips, and I live among a people of unclean lips.'  He acknowledges his sinfulness, and then comes healing!  "Then one of the seraphs flew to me, holding a live coal that had been taken from the altar with a pair of tongs.  The seraph touched my mouth with it and said: 'Now that this has touched your lips, your guilt has departed and your sin is blotted out'" (6:6-7).
In December, we talked about rules for consolation and desolation.  Here's another rule: Discouragement never comes from the Father.  Can we say that together, please?  Discouragement never comes from the Father.  When we hear about our past sins, we should feel badly about them, go to Confession, and never want to commit them again, but without discouragement—this response comes from the Father.  But, if you notice discouragement creeping in, that's how the devil hijacks contrition given by the Father.
Look at Isaiah's response: "Then I heard the voice of the Lord saying, 'Whom shall I send, and who will go for us?'  And I said, 'Here am I; send me!'" (6:8).  No discouragement here!  In fact, he goes out to proclaim the Lord's truth, so that people similarly change their hearts.
Mercy is love's second name (Dives in Misericordia, 7,6).  Every sin can be forgiven; the Father wants to forgive our sins because He loves us.  And when we talk about abortion, we're sinners talking to other sinners, trying to warn people not to commit this sin.
The morality of abortion starts with whether the preborn is human.  We all accept that we shouldn't kill an innocent baby, but there's doubt about the fetus.  The website WebMD has this screenshot.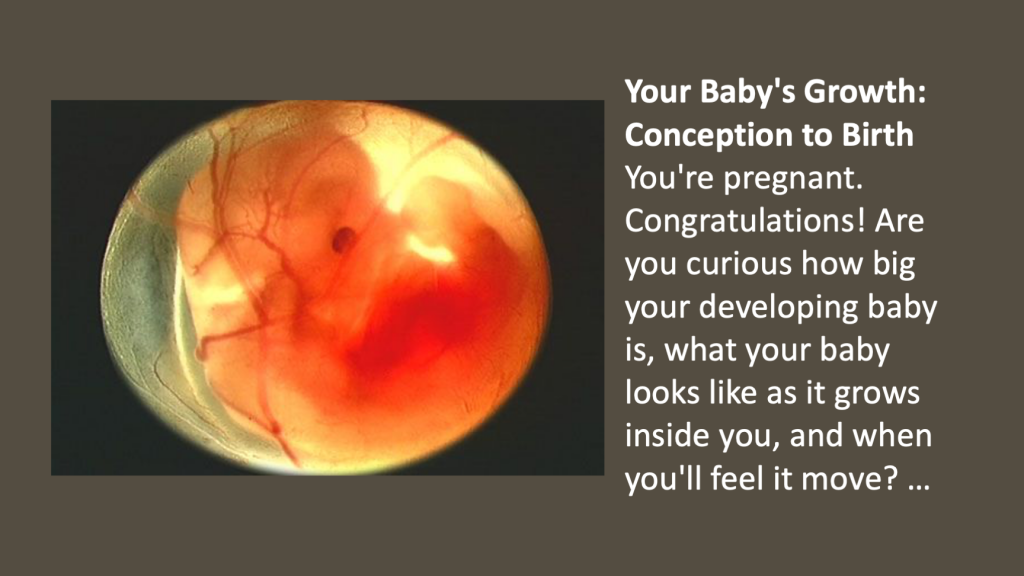 It says, "You're pregnant.  Congratulations!  Are you curious how big your developing baby is, what your baby looks like as it grows inside you, and when you'll feel it move?"
Another page says that, at conception, the genetic makeup is complete.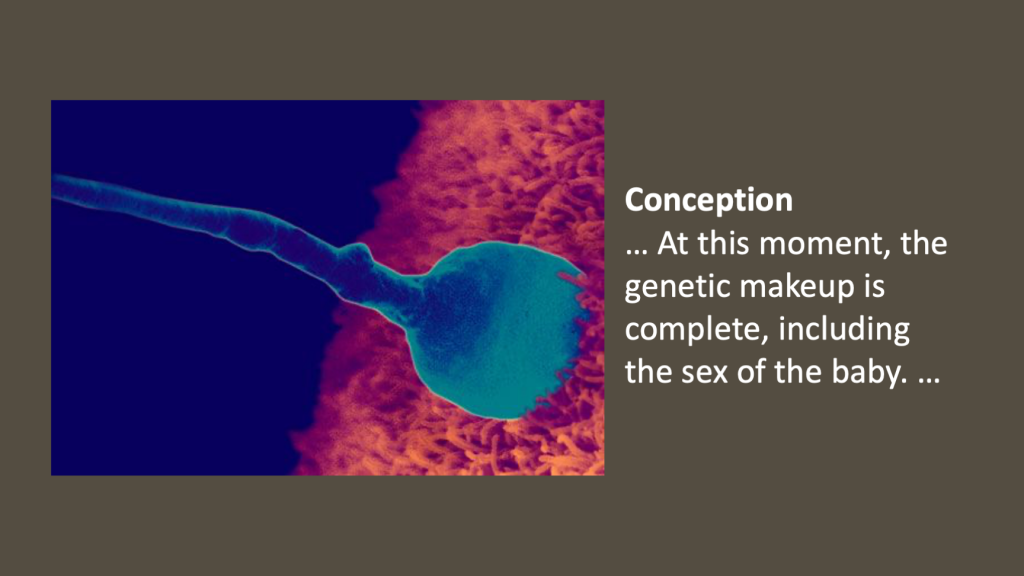 At 12 weeks, the doctor may be able to hear a heartbeat.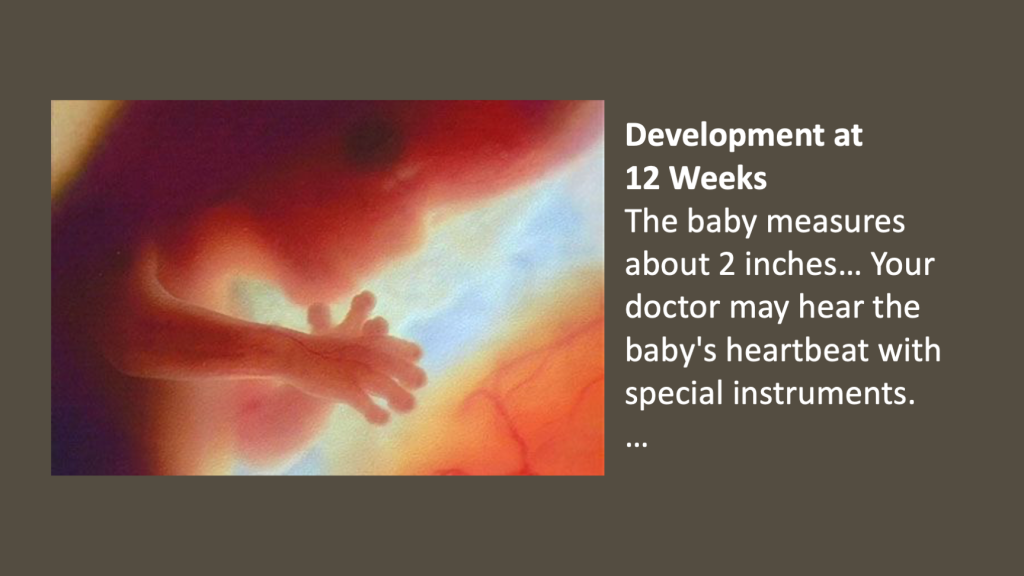 At 20 weeks, "The baby can suck a thumb, yawn, stretch, and make faces".  This is when we usually have ultrasounds.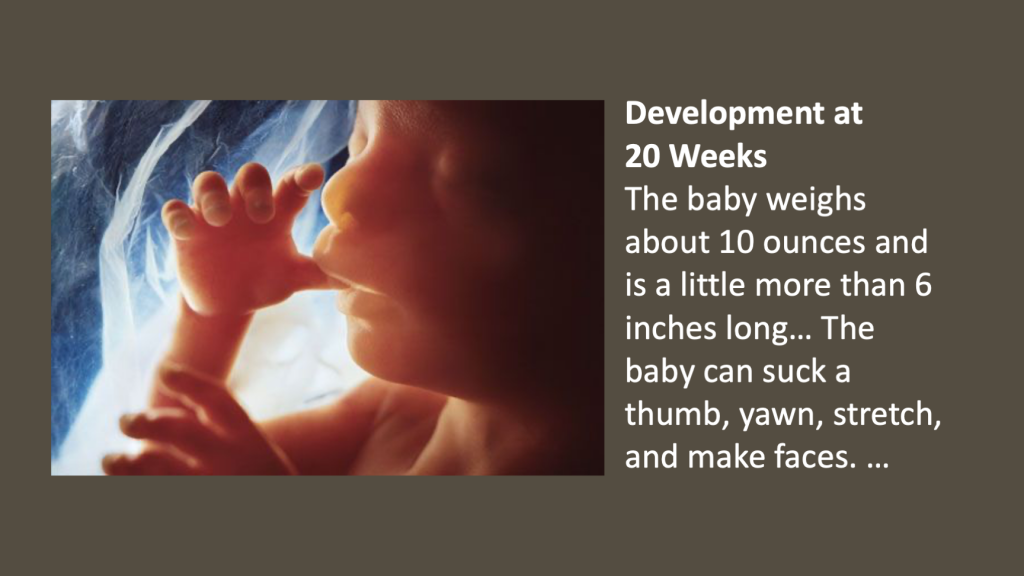 At 28 weeks, "If you had to deliver prematurely now, there is a good chance the baby would survive".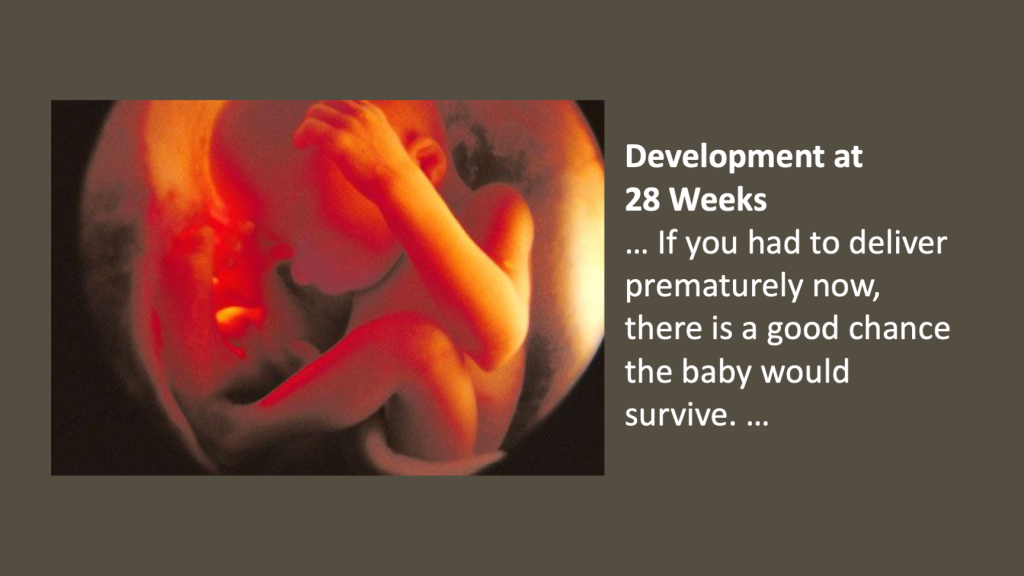 All these images and the language people use show there is no doubt that these are babies and that they are human.
So, shouldn't we at least acknowledge that abortion is wrong after 28 weeks?  In Canada, we can have a legal abortion anytime during pregnancy.  Only China, Vietnam, and North Korea have similar laws.  In every other country, they have some limits.
The wrongness of abortion becomes even clearer when we see the images.  We're going to describe the same three abortion procedures that we presented last year, because we want to see if our hearts have changed.  What's amazing is how these images still bother me, and I get more determined every year I see them.  Parents, now is the time when we'll start the video.
1) We have a minute-and-a-half video of Gianna Jessen, who describes in detail her survival of abortion, and then there's a photo of a baby who died by the same procedure. (Please watch 0:00-1:40).
2) The website of Planned Parenthood, which is the largest provider of abortions in the United States, describes another procedure this way: "Suction abortion (also called vacuum aspiration) is the most common type of in-clinic abortion.  It uses gentle suction to empty your uterus.  It's usually used until about 14-16 weeks after your last period".  But three diagrams show the reality.  Here's the first: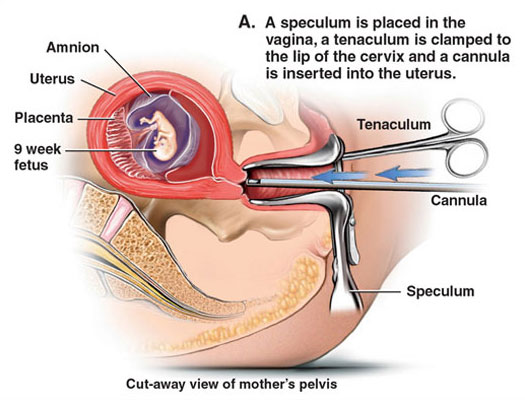 The second says: "The amniotic fluid, placenta and fetus are suctioned through the cannula into a collection jar.  The fetus and the placenta are torn apart in the process".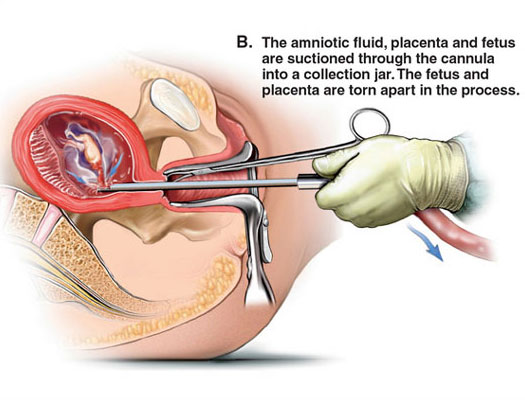 The third says, "The uterine cavity is scraped with a curette to determine whether any significant amount of tissue remains".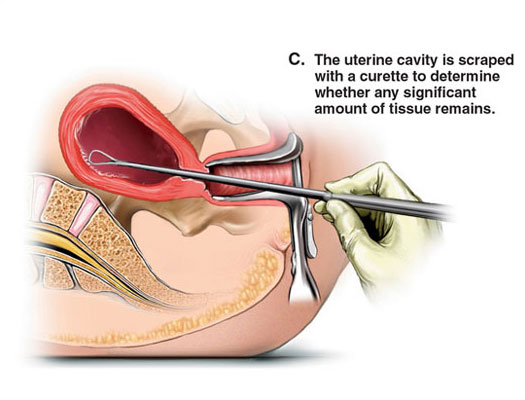 3) A former abortionist describes graphically the over 1200 abortions he did (Please watch 0:23-2:24).
Finally, here's an 8-week abortion: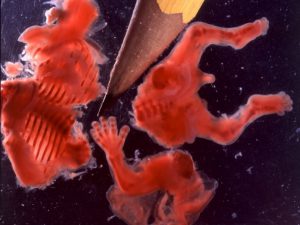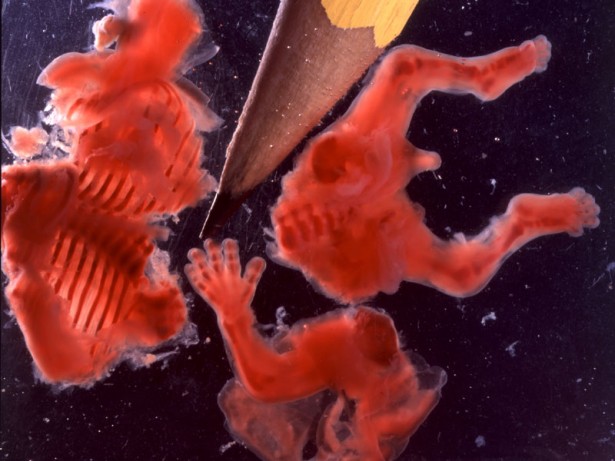 and two 10-week abortions:
We need to have mercy on these children and stop supporting abortion, and start fighting it.  We also need to show the Father's mercy to people who have been involved in abortions, by helping them face the truth, and then help them find the Father's forgiveness.
And when people ask, "What about in cases of rape?"  1.5% of all abortions happen because of rape.  But, for argument's sake, would you stop all other abortions if I allowed abortions in cases of rape?  Most people say 'No,' so the rape question isn't about rare circumstances.  It's about giving a hard case that opens the door to all abortions.
There are three other points to make.  First, when people ask, "Don't you care about the woman?"  We do!  We totally agree that the woman has undergone "a terrible trauma, which we can hardly begin to understand, and her well-being is very much our concern…  We… are ready to reach out to such women, giving them counsel, healing, and compassion" (Fr. Frank Pavone, Ending Abortion, 48-49).  But, second, will an abortion help her?  Does it alleviate the pain?  That's an unproven assumption.  In fact, "not only does the abortion not alleviate the trauma of the rape, but it brings a trauma of its own.  Countless women suffer for years and decades after abortion…  In rape, the trauma is 'Someone hurt me.'  In abortion, the trauma is 'I hurt and killed someone else…'  That brings even more grief."  Third, "Can't we love them both?  Can't we extend to the child the same practical compassion which… belongs to the woman?"
And that brings us back to the Father's mercy.  There is another sister in our parish who had an abortion and has given me permission to share that she felt the greatest forgiveness during her second general Confession.  She was forgiven the first time, but she felt the Father's mercy the second time when the priest talked to her about it.  Another time, when she was feeling the guilt come back, she went to adoration on Divine Mercy Sunday, and then felt Jesus' forgiveness.  And, whenever the unhealthy guilt starts to come back, she reminds herself that the Father has forgiven her, so she must forgive herself.
That's a great message for all of us: When we go to Jesus in Confession, He forgives us.  But He also wants us to forgive ourselves.  Sometimes that's the hardest part.  Yet, He gives us strength, and that's what He wants.  It gives Him joy when we forgive ourselves for that of which He's already forgiven us.  There are two ways to look at our sins.  The Father wants us to look at them with His mercy.