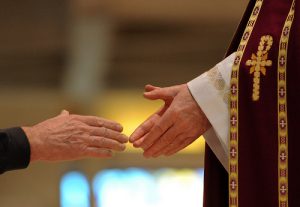 May I tell you about one of the fastest conversions I've ever seen?  For most of his life, this Catholic man had Jesus on the periphery of his life.  He went to Mass most of the time, never went to Confession, secretly struggled with pornography, and admitted later he wasn't living up to his vocation as a husband and father; unfortunately, there was a lot of selfishness and sadness in his life.
Within a two-year period, that all changed: thanks to God, Jesus became the centre of his life, he never missed Mass, went to Confession frequently, broke the habit of sexual sin, became a leader in his church, and very likeable and joyful. One time he even corrected me.  While we were talking among a group of friends, I said something about the vocation of one of his children, and he reminded me, "Father, we'll leave that up to God."  And I looked up to the sky smiling, "Ah!  The student has surpassed the teacher!"  We all laughed.  He had taken the lessons he learned and made them his own.
Let's put this in perspective: in my personal experience, a typical conversion takes about ten years, meaning someone will learn something about Jesus or our faith, but it'll take ten years for it to influence their daily habits and outlook on life (e.g. Jesus becomes the center of our life, but it takes years for us to fall in love with the Mass or stop swearing or stop seeking material success).  Five years is a fast conversion.  But two years is extremely fast.
Now how did he grow so quickly?  (Because, as we once said, the human person is made to grow, and if we're not growing, we're dying.  Deep down, we all want to grow and be happier.)  Well, like most of us, something drew him closer to God.  But, what served him well was that he focused on the little things.  Our Blessed Lord says today, "Whoever is faithful in a very little is faithful also in much; and whoever is dishonest in a very little is dishonest also in much" (Lk 16:10). After a while, you could see that this man was very intentional about the little things: smiling, paying attention to you when you were talking to him, stopping to reflect and pray, looking around to see if there's someone to help, being polite and encouraging, and going out of his way to forgive.  It's amazing: these little things can skyrocket us in our relationship with God.
When Deacon Juan was here, he and I met every week to go over his formation and see how he was growing.  One time, we were talking about having a tidy room and he said, "Father, there's a saint who said, 'You can't become a saint unless you make up your bed.'"  I said, "Really?  I've never heard that."  But it makes sense, right?  Part of being a saint is being virtuous, and it's a virtue to keep our house clean.  Anyway, we googled this saying.  We couldn't find it, but came across a video by an American navy admiral giving a commencement address to eight thousand graduates from the University of Texas.  He was talking about changing the world and this was his first lesson:
Every morning in basic SEAL training, my instructors… would show up in my barracks room and the first thing they would inspect was your bed.  If you did it right, the corners would be square, the covers pulled tight, the pillow centered just under the headboard and the extra blanket folded neatly at the foot of the rack…  It was a simple task—mundane at best.  But every morning we were required to make our bed to perfection.  It seemed a little ridiculous at the time, particularly in light of the fact that we were aspiring to be real warriors, tough battle-hardened SEALs, but the wisdom of this simple act has been proven to me many times over.  If you make your bed every morning you will have accomplished the first task of the day.  It will give you a small sense of pride, and it will encourage you to do another task and another and another.  By the end of the day, that one task completed will have turned into many tasks completed.  Making your bed will also reinforce the fact that little things in life matter.  If you can't do the little things right, you will never do the big things right.  And, if by chance you have a miserable day, you will come home to a bed that is made—that you made—and a made bed gives you encouragement that tomorrow will be better.  If you want to change the world, start off by making your bed.
Start at 4:36.
Years ago, I was going for an interview for a job, and asked my oldest brother, "Should I wear a tie?"  (After all, it was just a summer job at a camp and I didn't want to overkill my look.)  He told me to wear the tie, because it would separate me from all the other candidates who dressed casually.  I wore the tie and I got the job.  I had no other skills at the time, so clearly it was the tie!
What my brother did for me is something we all try to do for young people.  Have you ever noticed how I encourage the young people here to give a firm handshake?  It's a small thing but, in our culture, it's a sign that we're confident and engaged.  In our culture, a limp, weak handshake is perceived as timidity and shyness.  I also try to remind children here what you teach them at home: manners. 'Please,' 'Thank you,' 'Excuse me,' smiling, paying attention are very important in life.  No one likes to be around rude people; there's nothing attractive about not smiling; it tends to be a sign of lack of confidence.  These little virtues are tools for success.  Likewise, we train the altar servers to do what the priests and deacons do: be still, focus, not look around, have their hands joined at their chest because these little things are signs of discipline.  Successful people are always disciplined, every saint was disciplined, every athlete needs discipline, and coaches look for discipline.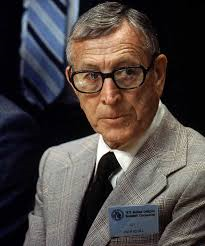 John Wooden is considered by many to be the best coach in all of sport.  He once said, "The closest I can come to one secret of success is this: a lot of little things done well" (Pat Williams, Wooden's Greatest Secret,16).  The first thing he taught his basketball players at UCLA was to put on their socks and shoes properly so that they'd avoid blisters all year.
By now, I have referred to this book four times: Marriage: Small Steps, Big Rewards.  Its premise is this: most marriages over time get colder, affection wanes, disagreements are regular, communication is bad.  They're not, as Dr. Ray puts it, seriously disturbed, but could use some new life.  By practicing ten small habits, couples reap massive rewards.  Here's some of the ten: Say, "I'm sorry"; don't say hurtful things even when we're mad; listen when you feel like talking; and never mention the word, "divorce" even when we don't mean it or when we just use to hurt our spouse; use your manners; husbands, protect your wives; be affectionate in touch.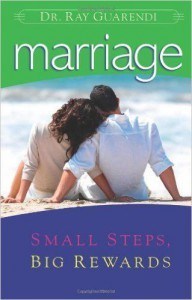 Most importantly, this virtue applies to a relationship with Jesus.  One of the first things we have to do to grow closer to God is to stop committing mortal sins.  St. Francis de Sales says that the resolution never to commit mortal sins for any reason whatsoever is "the foundation of the spiritual life" (Ralph Martin, The Fulfillment of All Desire, 108).  Many Catholics do this, which is wonderful.  The next important step is the resolution to never commit a single venial sin.  The saints teach that we all will still commit venial sins through weakness but the important thing is to resolve never to offend God even in small matters.  For example, "I'm not going to swear anymore.  I'm not going to tell even small lies.  I won't be unkind in speech to my family or anyone."  St. Teresa of Avila, who was lukewarm in her faith as a nun for about 40 years of her life, said, "As for venial sins, I paid little attention; and that is what destroyed me" (20).  Often, if we keep on doing venial sins, they lead to mortal ones, so it's important to get rid of those small ones.
In the grand scheme of things, some sins are easier to get over than others.  Certain sins, like controlling our food and drink and sexual desires generally tend to be harder because there's a lot of pleasure involved.  But other sins, like swearing, lying, being unkind, are much easier because it's a mainly a question of choosing our words.
A crucial help in doing the little things well is prayer.  When we wake up in the morning, part of our first prayer can include resolving, for example, to be very patient and ask the Holy Spirit for the grace to be so.  Speaking of which, what's the first thing we do when we wake up: prayer or cell phone?  If we check our phone before prayer, we're already off course.  When we go to bed, we can also focus on those little things in our examination of conscience and ask Jesus for forgiveness to do better.
We mentioned a few months ago how it's a parish goal that we all spend at least 15 minutes a week in adoration.  This little amount of time with Jesus is a game changer, because we receive so much grace, and our hearts change over time.  Could you imagine spending 15 minutes a week with Mother Teresa, and how much we'd change from her advice and presence?  It's infinitely more powerful being in the presence of the Blessed Sacrament.
So what part of our life do we want to be better?  That's where God is calling us to work on the little things.
It's simple, something we all can do.  This is how Jesus Himself lived and how all the saints lived.  "Whoever is faithful in a very little is faithful also in much."