Our opening idea is insecurity and how it makes us jealous.  I remember, for example, one woman who said with utter sadness about her sister, "Taller, prettier, more outgoing."  Or, I remember one time I was with a friend practicing a chant.  Another choir member came in, looked at the sheet music, sight read it perfectly, and then walked out.  My friend said, "I hate guys like that."
Can we think of anyone of whom we're jealous?  Who in our life is better, more talented and successful than we?  Who in our life has a better life, house, cars, job, schedule?  Do we have them in our mind now?  Okay, let's get depressed.  Just kidding.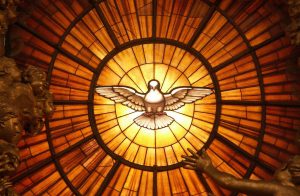 Today is the Solemnity of the Holy Spirit, the Third Person of the Blessed Trinity, and Jesus tells us today that, "When the Spirit of truth comes, he will guide you into all the truth" (Jn 16:13).  This is important, because our insecurities and jealousies are founded on lies.  Jesus said about the devil: "When (the devil) lies, he speaks according to his own nature, for he is a liar and the father of lies" (Jn 8:44).  So, the devil is always telling us various lies:  We're not loved, we're useless, we have no gifts, we have nothing to offer so why even try?
However, the Holy Spirit always tells us what's true.  On Dec. 31, we went over ten promises of God, and one of them was that we're always loved by God.  Jesus says, "As the Father has loved me, so I have loved you; abide in my love" (Jn 15:9).  And today He tells us some other truths: We all have gifts and all have something to offer.
In the First Reading, it's striking that when the Holy Spirit came down upon the 120 Christians, He didn't just come down upon some, but upon "each of them.  All of them were filled with the Holy Spirit and began to speak in other languages" (Acts 2:3-4).  St. Bede says different languages signify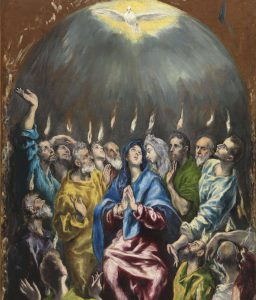 different gifts (Ancient Christian Commentary on Scripture, Acts of the Apostles, 23).  In addition, St. Paul tells us in the Second Reading, "There are varieties of gifts… services… and… activities, but it is the same God who activates all of them in everyone" (1 Cor 12:4-6).
So, here's the deal: Each of us is given unique gifts by God so that we can accomplish a specific mission.  Bl. John Henry Newman said, "God has created me to do Him some definite service; He has committed some work to me which He has not committed to another.  I have my mission—I never may know it in this life, but I shall be told it in the next….  I shall be an angel of peace, a preacher of truth in my own place… if I do but keep His commandments and serve Him in my calling."
If we really believe that we have a specific mission that no one else has been given, then we'll understand why we're not given the objectively best gifts: It's because we don't need them.  Yes, some gifts are objectively better than others (Objectively, it's better to be smart than not smart; that's why intelligence is a gift). However, that's not the most important thing.  The most important criterion is that God has given me everything I need to accomplish my mission.
I told you about the time I was jealous that I wasn't the smartest or best athlete in the seminary.  I said to myself, "I can't keep up with these guys.  What am I good at?"  What I didn't tell you is that peace came from recognizing a truth: Compared to amazingly talented people, I'm just a simple, nice guy called to be a simple priest, and I've been given everything I need to accomplish that.  I rarely felt jealous after that moment.  The times I did feel jealous were because I forgot that truth.  If God made someone smarter, more beautiful and more talented than we, it's because they have a different mission!  And, if He had given us better gifts, it might actually distract us from our vocation.
The 24-year old St. Thérèse of Lisieux had a desire to be a priest, a martyr, a missionary, a doctor (i.e., a great teacher) in the Church; she wanted to have every vocation and accomplish the best!  However, because she was a nun she couldn't experience any of them and this frustrated her.  So, one day, she opened up the Bible to the Second Reading today and read that not everyone can be an apostle, prophet or doctor—but this didn't yet satisfy her.  So she kept on reading and learned that "all perfect gifts are nothing without love," so she realized that her vocation was to be love, to be the heart of the Church, because, without someone dedicated full-time to prayer, the apostles, missionaries, and teachers wouldn't have strength to carry out their mission.  And she had the perfect gifts for this.
What was the vocation of St. Gianna Beretta Molla?  To be a wife, mother of four, and a doctor.  She was given the right combination of gifts to do just that, and because she fulfilled that role, she was more important and more influential than any regular pope, because the power of saints is always eternal and the most positive.
What were the gifts of Bl. Pier Giorgio Frassati?  To be an engineering student, going to daily Mass, helping the poor, giving his money away, getting involved in politics, being a joyful witness to others, etc.
What were the gifts of Bl. Chiara Luce Badano?  To love her family and friends, to be attentive to the least among people, to be patient when she had to repeat her first year of high school, to play tennis, swim and ski to the best of her ability, and to love Jesus when she was dying of cancer.  She struggled at 17 to accept her cancer, but eventually said, "Jesus…  If you want it, I want it too."  She never lost an opportunity to love.  One friend said, "At first we felt like we were going to visit her in order to support her, but quite soon we noticed that whenever we went into her room… we were being projected into… an adventure of God's love…  Chiara didn't say any extraordinary words…  She simply loved."
We're all called to be saints, and part of being a saint is living out the mission God has given us.
Here are three possible steps we can take to become more secure and fulfill our vocation to become saints:
1) Pray to the Holy Spirit.  How many already pray to the Holy Spirit?  We often pray to God, but we also need to get used to praying to each Person of the Trinity, that is, to the Father, to Jesus, or to the Holy Spirit.  We need to ask Him to reveal the truth to us, the truth about who we are, our mission and gifts.  We also need to ask for humility to accept our gifts.  Almost all of us suffer from unhealthy pride and narcissism, where we want to be the centre of attention, and we're always thinking about ourselves.
2) Pray for the people of whom you're jealous!  Be happy for them that they're better!  Why?  Because they have a different mission than we.  I have never felt jealous of my brothers even though they have gifts I don't.  Why?  Because I love them.  If we're jealous of people, it's a sign we don't love them enough.
3) St. Paul says the Church is the body of Christ (1 Cor 12:12) and some of us are the hands who do works of mercy, priests and deacons are part of the head, others are the eyes who see problems we don't want to see and then tell us (Ancient Christian Commentary on Scripture, 1-2 Corinthians, 117), others are the feet who proclaim the Gospel (Cf. Is 52:7), etc.
Look at our church: It takes hundreds of people for this body to flourish.  And here, I want to plant some seeds: Each of us is called to serve this community in at least one way: Coming to Mass every weekend is the start, but it's doesn't stop there.  How can we serve?  What are my gifts?  Where is there a need?  And for those of us who do serve, how can we raise people up?  God asks us to invite other people who have the right gifts for the right ministry.
In addition, sometimes we need to know when to step down.  Why?  Because we get into a comfort zone and God may be calling us to something else; by stepping aside we also let someone else grow in their gifts.  If we serve forever in a ministry and never let other people share in it, this is a problem.  Even though it's hard to admit, I say this because we're spiritually ready to hear it: sometimes we're not that good at what we do, or there are other people who could do it better.  We shouldn't be afraid to admit this, because it's not about our feelings, but about offering the best service to others.  A ministry isn't done for ourselves but for others.  So, if we could find a better priest, I would step down.  If this scares us or bothers us, it could be because it's touching an insecurity of ours.  Therefore, we need to pray to the Holy Spirit again.
At the end of St. John's Gospel, St. Peter, who is walking with Jesus, turns and sees St. John, the beloved disciple.  St. Peter asks, "Lord, what about him?"  And Jesus responds, "What if I want him to remain until I come?  What concern is that of yours?  You follow me" (Jn 21:20-23).  The more we think unhealthily about ourselves and other people, the more jealous we'll be.  But the more we look at Jesus and think about the mission the Holy Spirit has given us, the more we'll be secure in our vocation to sainthood.