Merry Christmas, everyone, and a special Merry Christmas to our guests!
I told you three years ago about a woman who lived day by day because her teenage daughter was very sick.  What I didn't tell you was the extent of the situation: The daughter had anorexia, was cutting herself, in the hospital, and severing ties with her family  thinking she could solve her problems on her own.  Mom was overwhelmed:  She called me for help, cried regularly, but (listen to this) she said to her daughter, "These are not tears of weakness, but tears of strength.  I am going to be there for you no matter what garbage you throw at us (She used a more colourful word than garbage).  I'm going to be there for you in the long run, to keep you alive."
What was happening was that life circumstances and the devil were working to break this mother's faith down, to make her forget that Jesus is God, that Jesus came to rescue her and her daughter.
This mother said that when the devil can't get us directly, he'll attack those we love the most to get at us and our faith.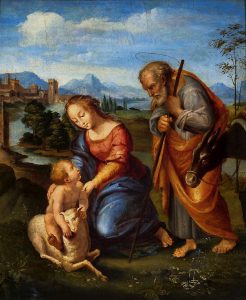 Is our faith being tempted in any way?  Today is the feast of the Holy Family (when we celebrate the family of Jesus, Mary, and Joseph), so is there any difficult family relationship that's tempting us to forget Jesus is in control?
In the Second Reading, the first letter of St. John, there's another family in trouble.  St. John wrote this letter around the year 100 A.D. to a Christian community in Ephesus (modern day Turkey). This Christian community just had a group of Christians break away from them because this group didn't believe what the apostles taught; and now they were trying to deceive St. John's community into believing false ideas about Jesus.  Consequently, St. John writes this letter trying to strengthen his community's faith.  And one of the things he says is, "This is his commandment, that we should believe in the name of his Son Jesus Christ" (1 Jn 3:23).  Have we ever thought about that?  There are many commandments and one of them is to believe in Jesus' name.  To believe in His name means two things: 1) to believe that Jesus is the Christ; and 2) that He's the Son of God (Cf. 1 Jn 2:22-23, 5:1,5).  Christ means He's the Anointed One, sent on a mission to reconcile us with God (Cf. CCC 548).  To believe that He is the Son of God means that He is God, not just a great teacher, but God, Who can overcome any problem.  St. John's reminding his family to remain strong in their faith and believe more!
So God today is giving us a great gift: When things overwhelm us, have faith!  Believe in the name of Jesus!
When I told you, three years ago, about that mother and daughter, it looked as if there was no way out of their situation.  The mother only got through it by faith: She prayed daily and went to daily Mass; even though sometimes she felt she couldn't pray, she prayed anyway.  What was amazing is that her emotions were all over the place, but she kept them under control and didn't let them rule her.  She said, "Faith doesn't necessarily hide the pain, but you know you're going to have a place to land.  I knew God was allowing this for whatever reason.  My faith just held me up."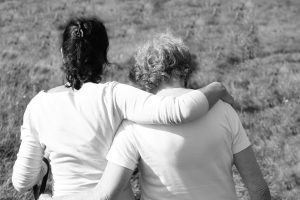 After years of hell, things eventually got better when a counselor  saw signs of a deeper mental illness in the daughter: bipolar disorder.  Once they spotted that, they gave her some medications that changed everything.  She's now living well and is strong in her faith again.  Mom says, "It's a complete 180 degree turn.  I have such a good relationship with her now: She shares deeply with me and is very vulnerable.  God has gone so far beyond what I expected.  I thank Him every day for her."
So, when things overwhelm us, here are three ways to increase our faith: prayer, practice, and praise.
1) Number one is prayer.  Faith is a gift (CCC 153), so we need to ask God to increase it.  Remember in St. Mark's Gospel the story of the boy with a demon?  The father brings the son to the apostles but they can't cure him.  When Jesus arrives, He criticizes the people for their lack of faith, which is really bad (Even Darth Vader, in Star Wars, episode 4, criticized someone for his lack of faith, saying, while choking him, "I find your lack of faith disturbing").  The father of the boy says to Jesus, "If you can do anything, have compassion on us and help us"(9:22).  Jesus responds, "'If you can!'  Everything is possible to one who has faith" (9:23).  Then the father cries out, "I do believe, help my unbelief" (9:24).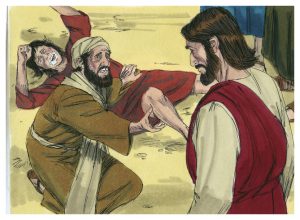 St. Augustine, commenting on this passage, talks about the difference between emerging faith and mature faith (Ancient Christian Commentary on Scripture, Mark, 117). We all believe, to a certain extent, but not completely.  So we need to ask God to increase our faith.  Last July, we talked about asking for an increase in faith every morning.  Now we can pray every morning, "I do believe, help my unbelief."
2) Number two is practice.  I once asked, "What's the opposite of 'to believe'?"  It's not disbelieve.  According to St. John's Gospel, the opposite of to believe is to disobey, because St. John says, "He who believes has eternal life; he who does not obey the Son shall not see life" (Jn 3:36).  We'd expect him to say, "He who does not believe shall not see life," but he says he who does not "obey," meaning that, when we believe in Jesus, we'll obey Him.  Obedience is the sign of faith.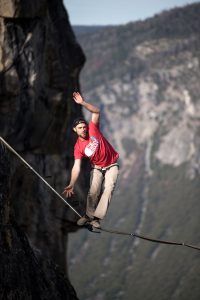 I'll give you an example: Let's say a man walks a tightrope across Niagara Falls.  And before he goes, he gets on the PA system and asks the crowd of 100,000 people, "Do you believe I can do it?"  They shout back, "We believe!"  25 minutes later, he makes it across the falls .  Then he says, "I'm going to do it blindfolded now—do you believe I can do it?"  They shout back, "We believe!"  When he finally makes it across, the crowd roars, and he says, "Now I'm going to do it with a man on my back—do you believe I can do it?"  They shout, "We believe!"  And he adds, "I need a volunteer."
If we believe, we'll obey God's commandments: We'll forgive our family and friends even when they don't deserve it. We'll be the first to apologize even when the other person is 50% to blame.  We'll go to Mass when it's difficult.  We'll face a difficult situation head-on when we want to avoid it. We will stay hopeful, and practice our faith.
These last few months we've focused on hospitality and becoming an invitational church, and God has blessed this abundantly.  We want to keep on doing what we've been doing, and let it remain a part of who we are. But now we're going to switch gears: From now until Sunday, March 24, 2019 when we open our new chapel, we're going to be focusing on Jesus in the Eucharist.  The key to growth in faith, love, and our relationship with Jesus is the Eucharist.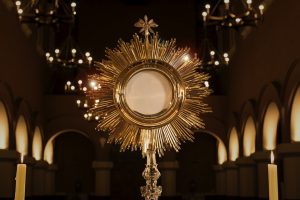 Spending time with the Eucharist is a game changer when we're dealing with difficult situations.  We'll talk more about this next week, but, for the time being, I'd like to invite everyone to open their hearts and minds towards this new goal so that we can become saints and love as Jesus.
3) Number three is to praise God for what He's done through the difficulties, because if we can see God's hand in difficulties so much so that we praise Him for them, then our faith will increase and the way we see things will change.
I've told you before how hard the diplomatic school in Rome was for me.  I described functioning in Italian as living in a sort of mental prison; and I have no idea how I passed my courses.  I even had nightmares about my courses two years after I left Rome!  (Imagine your worst nightmares… and then having them in Italian!)  But I praise God for my time in Rome because I came back more of a man.  I learned more about myself, my strengths, my limits, my legitimate needs, and I learned not to put up with nonsense.  I thank God for what He did through the suffering.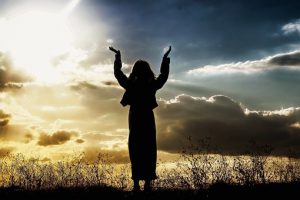 Years ago, I asked a friend who survived cancer and who was telling me about the amazing things that came out of it, "Do you thank God for it?"  "No."  She wasn't ready then.  But she is now.  She praises God for allowing the cancer because it made her and her faith strong.  She says, "The more I thank God, the more He gives.  Sometimes I even have to shake my head.  God is so generous.  I'm really not worthy but He keeps on giving."
Jesus wants you to know that you and your family are going to be alright.  Things will get better because Jesus came to rescue us, and He's God.  He's saving us right now!  So, let's cooperate with Him by prayer, practice, and praise.