A friend once was talking to me and started crying because he admitted that he didn't love his parents enough.  They had written him a letter expressing how much they loved him and about the good they saw in him.  He said they always loved him even though he treated them so badly.
That's how I sometimes feel.  I've always known I don't love God enough: I don't always prioritize Him; I hurt Him; I don't always trust Him fully; I haven't yet given Him everything.  But it's only in preparation for this homily that I've realized that I don't love my own parents enough.  Brothers and sisters, and dear guests, can you relate to this: Is there anyone in your life that you ought to love or love more but don't love enough?
[Listen to Fr. Justin's homily here.]
Part 1
Part 2
The Gospel we just heard is about St. Peter's not loving Jesus enough and how Jesus helps him.  It's a spring morning, after Jesus' Resurrection, on the shore of Lake Tiberias/Galilee (Jn 21:1,4).  Seven apostles had just spent the night fishing (21:2), and then encountered Jesus Who was on the beach (21:4), ninety meters away (21:8).
When they come ashore, Jesus has already prepared bread and a charcoal fire, cooking fish on it (21:9).  The mention of a charcoal fire is important because there's only one other place in the Bible where there's a charcoal fire: when St. Peter denies Jesus (Jn 18:18).  So, this is the place where he'll renew His love for Jesus!
After breakfast, Jesus asks, "Simon, son of John, do you love me more than these?" (Jn 21:15); 'these' means the other apostles.  This is a question Jesus asks us!  And St. Peter says, "Yes, Lord; you know that I love you."
Now there's a play on words here.  In the original Greek of the New Testament, Jesus and St. Peter use different words for love.  Jesus actually says, "Simon, son of John, do you agapas me?" in other words, "Do you love me sacrificially?"  Agape means  "love without reserve, total and unconditional."  But Peter responds, "Yes, Lord, you know that I philo you," meaning, "You know that I love you as a friend."  Philo means the tender love of friendship (It's from "philo" that we get the words philosophy (love of wisdom), philanthropy (love of man), and Philadelphia (love of brothers).  He uses this word because he knows he doesn't love Jesus enough.  He wants to, but knows he doesn't!  This is how it is with our parents and God:  They love us sacrificially, but we love them in a human way!
So Jesus asks him a second time, "Simon son of John, do you agapas me/love me sacrificially?"  And Peter repeats, "Yes, Lord, you know that I philo you/as a friend" (Jn 21:16).
St. Peter denied Jesus three times, and so Jesus asks him a third time!  But this time, Jesus switches to, "Simon, Son of John, do you phileis me/love me as a friend?"  Do you see what Jesus is doing here?  Pope Benedict XVI says that "Jesus has put himself on the level of Peter."  That gives him and us hope.  Jesus adapts himself to our weakness in order to help us love Him fully!  This is great news!
For most of us, our children never love us as much as we love them—that's a painful fact of life.  And we don't love our parents as much as they love us!  They will always love us sacrificially, even if we don't.
However, a deep desire of us parents is that one day our children will love us the way we love them.  Perhaps that's why God allows us to grow old and frail, so that our children will have a chance to love us sacrificially.
That's God's desire, too, that one day we, His children, will love Him the way He loves us.  Actually, this is our desire.  That's why my friend cried when he got that letter from his parents; he wants to love them more.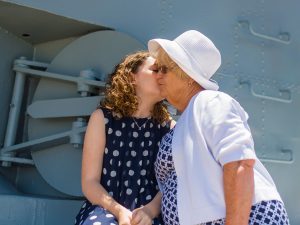 So, how do we grow in that love?  Jesus gives us three ways:  1) We tell God and our parents we love them.  This is the best way to apologize to them for the times we've hurt them.  And let me ask you this:  If we don't love God and our parents sacrificially yet, do we at least wish we could?  And let's say we don't:  We're not that bothered by it.  Do we at least wish we were bothered by it?  The Jesuit, Fr. John Veltri, talks about the desire to desire.  For example, it doesn't bother me that I don't love my parents enough, but I wish it bothered me more.
Desire is very important because it's a start of great things!  Some people sometimes get upset that they don't love God enough—but that's a sign that they do love God!  So I'm giving you a tool for prayer:  We can ask God for the desire to love Him and our parents more!  And then eventually say it to them!
2) After each time that Jesus asks, "Do you love me?" He tells St. Peter, "Feed my sheep" (Jn 21:15-17).  In other words, if we want to love Jesus authentically, then we have to love those He loves and imitate Him (The Didache Bible, 1454).
St. John the Apostle writes, "Since God loved us so much, we also ought to love one another…  We love because he first loved us.  Those who say, 'I love God,' and hate their brothers or sisters, are liars; for those who do not love a brother or sister whom they have seen, cannot love God whom they have not seen" (1 Jn 4:11,19-20 NRSV).
Do you love Jesus?  Then love your enemies, strangers, and people in whom you're normally not interested!
3) The final way is to lay down our lives for Jesus.  Jesus says to St. Peter, "Very truly I tell you, when you were younger, you used to fasten your own belt and to go wherever you wished. But when you grow old, you will stretch out your hands, and someone else will fasten a belt around you and take you where you do not wish to go"(Jn 21:18). Jesus is talking about immature love ("When you were younger") and mature love ("When you grow old").  When we're immature we love in a way that primarily makes us feel good, but when we grow, we'll love to the point of self-sacrifice.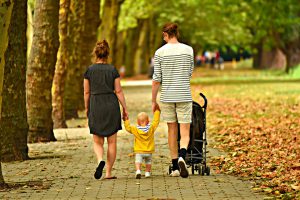 That's what parents do. Whenever couples have their first child, they immediately mature, or have to mature, because now they live entirely for another person—that's how we become like God!  That's what priests are called to do!  We lay down our lives for other people.  We give up marriage and family so that others can live!  This is great!
When my grandmother was sick, and staying at UBC Hospital, Purdy Pavilion, my mom visited her as much as possible.  And my mom asked God for one grace: that she could be with my grandmother when she died.  In His mercy God granted her that grace.  That's something worthwhile for which to ask, that we can support our parents in their old age and infirmity.
As was mentioned before Mass started, today we begin our annual Project Advance campaign.  Thank you so much for your sacrificial giving in the past!  This is a financial way of supporting the archdiocese and our Parish Centre project.  And we always keep in mind a few principles:
1) This is an opportunity to love!  That means it's not a matter of pressure.  We eliminated that pressure here years ago.  For a disciple, someone who puts Christ at the centre of their life, financial giving is an opportunity to love.
2) Stewardship is part of being a Christian.  God gives us money and expects us to do something great with it.  So, the fundamental point isn't to give only to this campaign, but to grow in generosity!  Have we grown since last year?  How can we grow this year?  If you want to support other needs outside the parish, that's great!  Just make sure it's what God wants and that we grow in generosity.  We should support our spiritual community here, but I leave that up to you.
3) Sacrificial giving is a word that's become a part of our parish DNA.  When we give to God and others, it should hurt a little—that's a sign that we're expanding in our capacity to love.
Today, Jack and Anna Lam, and other volunteers will be at the back of the church to hand out pledge forms; this saves us money on postage.  Please pick up your pledge form (for any parishioner who's registered) and consider making a gift!  They'll be here this week and next week, and we'll try and have the best year ever!  Our archdiocesan  goal is $36,000, meaning that money goes to support the larger faith community in the archdiocese, and then anything we raise over that goes to our parish centre.  Last year, we raised $92,000 and $51,000 came back to us.  This year we hope to raise $100,000.  Through Project Advance we hope to raise funds to cover the architectural costs in building our parish centre.  Remember, your participation and gifts will help us get closer to having our parish centre which will serve as the gymnasium for our school children and a place for us to gather for events and ministries such as Faith Studies, Alpha, receptions, etc. This will breathe new spiritual life into the parish.

Finishing with the Gospel, I have to tell you that this Gospel is my favourite, and explains much of who I was designed to be.  I don't love God, my parents, and you enough.  But I want to.  So I need to say it more!  I love you!  And I want to tend the flock He's given to me.  But my greatest joy is to lay down my life for God.  (Some of the young men here might identify with this—that's a priestly heart.  A man who wants to lay down his life so that others can live may be called to be a priest.)
To hear the words Jesus spoke to St. Peter that when I grow old, I will stretch out my hands and someone else will fasten a belt around me and take me where I do not want to go gives me so much life!  Why?  Because everything I do always falls short of loving Him in return.  This is the way I'll prove my love for God.  I want to give Him everything.  That will involve dying to self and possibly even my death.  I tell you this because we're called to be saints here, and sainthood involves dying to self and giving all for Jesus.
Jesus gives us three ways to love: 1) To tell Him and others that we love them; 2) To tend His sheep; and 3) To lay down our life for Him!  That's how we'll love them as much as they love us.