You have five seconds to answer the following question, one that people sometimes ask us, and will help our Sabbath Summer rest.  If we don't have a good answer, people won't be convinced, and it'll expose a weakness in us.  The question is: Why do you pray?
[Listen to Fr. Justin's homily here.]
If we don't know why we pray, then, whenever we're busy (which is all the time), don't feel like praying or when it's hard (which is most of the time), we won't pray—that's our weakness, and that's a temptation this summer.  Isn't it true that most of us neglect giving God time every day?  We need prayer this summer and always, for our souls.  So, if we know clearly and from the heart why we pray—which shows it's a deep part of us—then the next time we don't feel like praying, we will!
The Gospel reminds us beautifully why we pray.  Jesus visited the town of Bethany where Martha welcomed Him while her sister, Mary, "sat at the Lord's feet and listened to what he was saying" (Lk 10:39). Sitting at His feet is the posture of discipleship, and listening is what followers of Jesus do (Lk 8:35; Acts 22:3, Ignatius Catholic Study Bible, 129).
The Gospel then says, "But Martha was distracted by her many tasks; so she came to Jesus and asked, 'Lord, do you not care that my sister has left me to do all the work by myself?  Tell her to help me" (Lk 10:40). What's Martha's problem?  She's distracted.  But it's deeper than that.  She's actually forgotten about Jesus (Anthony Esolen in Praying with St. Luke's Gospel, ed. Fr. Peter John Cameron, OP, 129).  She's so busy serving His needs that she's forgotten about the person.
Is that possible?  Sure.  Remember I told you about that man who came to me feeling guilty that he wasn't spending enough time with his family?  He was working long hours for the sake of his family, but couldn't take himself away from work because subconsciously he was doing it more for himself.  His wife and kids just wanted to spend more time with him, but he lost focus on them.
So Jesus says, "Martha, Martha, you are worried and distracted by many things; there is need of only one thing" (Lk 10:41-42).  That one thing is comprised of listening, discipleship, and prayer—all directly focusing on Jesus.
Then He adds, "Mary has chosen the better part, which will not be taken away from her" (Lk 10:42).  Mary's part is better because it lasts.  St. Augustine says that Martha does the right thing by taking care of Jesus' body, and we should do this, too (Ancient Christian Commentary on Scripture, Luke, 182)!  Hospitality, work, and service are all important.  But prayer's better!  That's because, in heaven, no one works.  People just pray and love.  Work is transitory, prayer lasts.
So, the answer to the question, "Why do we pray?" is that prayer is our food, our relationship, and our exercise.
1) Prayer is our food.  St. Augustine asks an interesting question about today's Gospel.  Martha was throwing a party, right?  So, what was Mary eating while listening to Jesus?  St. Augustine answers that Mary was eating truth.  He even says that she was eating Jesus, because Jesus said He's "the way, the truth, and the life" (Jn 14:6), and is the bread of life (Cf. Jn 6:35,48).
If we don't physically eat, we die.  If we don't pray, we spiritually die, because we won't have the strength to resist what can kill our soul, what we call mortal sins: gravely wrong actions that we know are wrong, and do with deliberate consent (Cf. CCC 1857).
Now here's some quick catechesis, meaning, some quick teaching on what we believe, because this is nourishing for our conscience and we haven't done this in a while: What gravely wrong actions have we discussed?  Missing Mass on Sundays (this is grave because Someone loved us so much that He died for us and offered us eternal life.  The least we can do is thank Him once a week); getting drunk (because we're tossing away one of our greatest gifts, our ability to choose and love); watching pornography (because we're objectifying people, using them); sex outside of marriage (because sex is the sign that we're married, and to offer the sign without marriage is a lie); physical or sexual abuse; or abortion (because the preborn is a person, it's murder).  Now, especially if you're a guest here, please don't get overwhelmed; if you want more explanations, the links to them will be in my blog tonight.  Don't forget that every sin can be forgiven, because Jesus came to save us.  The point is: We need spiritual nourishment to live.  However, even better, if we have a good spiritual diet, then we can love like Jesus, living a life of gratitude, self-control, generosity, honesty, and virtue.
2) We pray because prayer is our relationship.  That's the theme of the Gospel.  Could you imagine if we said, "I talk to Jesus all day.  I love Him!!!  That's why I love my family, go to work, etc."?  And then Jesus says, "Could you love Me even more?"  "Sure, Jesus."  "Could you spend 15 minutes a day with Me in focused prayer?"  "But, Jesus, I'm so busy."
God didn't create us primarily to do good things.  He created us for a relationship with Him.  He wants a relationship with us!  He's not forcing us, but He is trying to win us, and we're invited to respond.
Can you all repeat this line back to me, please?  Prayer does not help our relationship with God.  It is our relationship!  This is a provocative statement that just reminds us that prayer is a relationship.  To have a strong relationship with Jesus means to have a strong prayer life.
3) We pray because prayer is spiritual exercise.  How do we build our muscles?  We work out.  How do we improve cardiovascular health?  Get the heart rate up.  How do we increase our faith, hope, and love?  Exercise them.
Some people here are in great spiritual shape: You trust God no matter what happens, you know God always loves you, and your love is always intense!  How did you get to be so spiritually strong?  Every day you do one-hour spiritual workouts or more.  Your souls are like Deacon Andrew's body: in perfect shape.
In June, I told you about Geoff and Maria Moeller, who tragically lost their two sons in a car accident.  Their faith was tested more than most people's ever will be.  One thing Geoff told me was that his years in the seminary and monastery strengthened his faith to prepare him for the accident.  Through spiritual exercise, he became strong.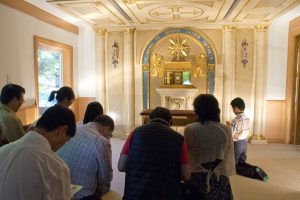 Prayer is our food, relationship, and exercise.  There are other reasons, but these three are simple to remember because they're part of human life.  Here's the adoration tip for the week: Never skip time in prayer.  St. Ignatius says that when we're supposed to pray for an hour, there will be times when it's hard, so, during these times, it's better to stop praying and give up—no!  He says we "ought to remain always a little longer than the full hour, and in this way become accustomed not merely to resist the enemy but even to defeat him" (Spiritual Exercises, Introductory Explanations, 13th).
In my first year of seminary, I would go to daily Mass.  After I returned to the seminary from Christmas break, P. Peter, my spiritual director, asked, "Did you go to daily Mass?"  "Most of the time.  Sometimes I was so tired, because I was out with friends the night before, that I didn't make it."  He said, "Well, the next time you're on vacation, just get up, go to Mass, and then go home and sleep."  His advice put me on the right road for life.  After that, I don't think I ever missed daily Mass again except when it was just impossible.
Another time, while in New York, I was talking to Fr. Andrew King about personal prayer and saying how sometimes it's hard when we're busy.  Fr. King, who's not at all emotional, just said, "Well, if you have time to eat, you have time to pray."  That simple!  I love it!
How much prayer should we do a day?  You choose.  Choose what makes you grow spiritually.  Fr. Jacques Philippe says 15 minutes a day is the minimum for mental prayer (Time for God, 83).  Choose a prayer you enjoy, like the Rosary, or meditating on the Bible, or certain fixed prayers, or spiritual reading; or a combination of any of these.  On FORMED this week (the cards are in the pews!), please go to the "Community" section and find some great resources: Lectio Divina, by Dr. Tim Gray; Praying the Rosary Like Never Before, by Dr. Edward Sri; Introduction to the Devout Life by St. Francis de Sales; Total Consecration Through the Mysteries of the Rosary, by Fr. Ed Broom, OMV; Love: A Fruit Always in Season, Daily Meditations by Mother Teresa; The Little Oratory, A Beginner's Guide to Praying in the Home by David Clayton and Leila Lawler; How to Pray Always by Fr. Raoul Plus, SJ.
I remember hearing a story about Georges Vanier, who became Governor General of Canada in 1959.  Governor General Vanier is the person after whom the park in Kitsilano and many other schools are named.  He lost his right leg in World War I, got married when he was 33, and had five children.  He and his wife went to Mass every day and converted a room at Rideau Hall into a chapel, where he would pray twice daily.  In the 1940s and 50s they added to their daily routine a half hour of prayer together.  The story I remember hearing is that when he would pray and his children would disturb him, he would raise his hand and ask them to wait until he finished, and his children understood.  This is a man who never missed his prayer.
There's a cause for the canonization of Georges and Pauline Vanier, to find out whether they're saints, which is our goal, too.  Martha and Mary are both saints, but Mary chose the better part, because prayer lasts.
Why do we pray?  Because it's our food, our relationship, and our exercise.